How to Put a Lock on Your Closet
Everyone has a skeleton or two in their closet, and sometimes you need to lock them in. Installing a lock on a closet door is an easy home improvement project using common household tools. Typically, non-locking passage doorknobs install on closet doors. Keyed entry doorknobs are the same size and mount easily to a closet door, allowing you to lock it.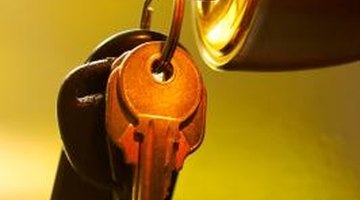 Remove the mounting screws on the closet doorknob using a slotted or Phillips screwdriver. Remove the old doorknob by pulling it apart and free of the door.

Use the Phillips or slotted screwdriver to remove the mounting screws securing the latch assembly to the closet door. Slide the latch assembly out and away from the door. Stubborn assemblies might need prying with a screwdriver.

Insert the new latch assembly from the entry lock into the slot on the door. Secure the assembly with the mounting screws provided in the hardware packet.

Insert the entry lock into the latch assembly, making sure that the keyed side of the doorknob is facing the adjoining room. One side of the doorknob has a shaft that slides through the latch assembly and into the other half of the doorknob.

Secure the doorknob with the new mounting screws that came with the entry lock using an applicable screwdriver until snug.

Remove the striker plate mounting screws with an applicable screwdriver and discard. Install the new striking plate and screws to finish the project.
References
Tips
Do not hide the extra closet key in the closet.
Use the old doorknob as a guide when purchasing the new doorknob.
Warnings
Do not over-tighten the doorknob's mounting screws as it could impede its operation.
Writer Bio
Robert Ferguson has been a writer since 2000. His published work includes material for major companies in the home improvement, plumbing, HVAC and power tool industry. Ferguson is a self-employed, licensed building contractor in Florida with more than 30 years of hands on experience experience focusing primarily on residential remodeling, repair, renovation and construction.
Photo Credits
Jupiterimages/Photos.com/Getty Images
More Articles