How to Replace a Kwikset Deadbolt
Kwikset manufactures an extensive line of deadbolts for use on residential doors. A Kwikset deadbolt has a large steel bolt that, when engaged, helps prevent an intruder from prying or kicking your door open. Since deadbolt sizes are standardized, replacing a Kwikset deadbolt is not difficult.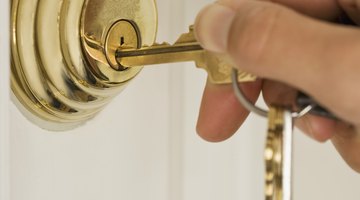 Things You Will Need
Phillips screwdriver
Flat screwdriver
You can remove the existing deadbolt in a few minutes, and installing the new one is just as easy.
Open the door that has the Kwikset deadbolt installed on it.

Remove the two retaining screws from the inside of the deadbolt with a Phillips screwdriver. Pull the thumb-turn off the door. Pull the outer cylinder and tailpiece out of the latch assembly.

Remove the screws holding the latch assembly to the edge of the door. Pull the latch assembly out of the latch-hole.

Insert the new latch into the latch-hole with the arrow on the side of the latch pointing up. Screw the latch screws into the existing holes and tighten them securely. Turn the square hole in the latch assembly with a flat screwdriver to extend the latch-bolt.

Turn the tailpiece on the new outer cylinder toward the edge of the door. Slide the tailpiece through the hole in the latch assembly and hold it in place.

Turn the thumb-turn toward the edge of the door. Slide the hole in the back of the thumb-turn over the end of the tailpiece. Align the screw holes in the thumb-turn with the holes in the latch assembly.

Insert the mounting screws and tighten them with a Phillips screwdriver.

Tip

Kwikset deadbolts are available in a variety of finishes to match your existing hardware or decor. Installation may differ slightly between Kwikset models. Check your product manual for details specific to your model.

Warning

If a deadbolt with an inner lock cylinder is used, make sure to keep a key next to the door to facilitate exiting the house in an emergency.
References
Resources
Writer Bio
David Young has written for the website for the Save Darfur Coalition and is currently writing articles for various other websites. Young holds a Bachelor of Arts in philosophy from Western Carolina University.
Photo Credits
Thinkstock Images/Comstock/Getty Images
Thinkstock Images/Comstock/Getty Images
More Articles