Height of End Tables
End tables are decorative and practical pieces of furniture typically placed next to living room sofas and armchairs. Their height is based on the common tallness of sofa and chair arms to make access to the tabletops easy. The table elevation also allows the best positioning of lamps for reading.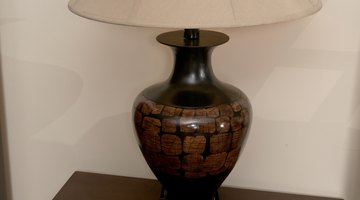 Standard Table Height
Although end tables can be between 20 and 30 inches tall, the typical height for an end table is 24 inches, a size determined by the ordinary height of the arms of sofas and living room chairs. The customary height of the arms is between 32 and 34 inches, and end tables are made 8 to 10 inches lower to provide easy access to them while adjacently seated. Taller and shorter end tables also disturb the visual flow of the room and create an uncoordinated look with the other living room furniture.
End Table Uses
The uses for end tables are both decorative and useful. Display framed photos or art, a decorative hand-carved box or a collection of small curios on the table surface. Keep car keys, remote control devices and books you are reading handy on an end table. End tables can also showcase a houseplant, or you can place a reading or ornamental lamp on the table.
Styles and Types
End tables can match the style of the living room furniture or make bold accent statements with dissimilar designs and colors. If all the other furniture in the room is angular, soften the look with a round, an oval or a curvy-edged table. Conversely, an end table with clear, sharp angles gives a modern touch to rooms overwrought with puffy overstuffed chairs and sofas. To lighten a dark room, choose tables made from light-colored woods, and use dark wood end tables to tone down rooms decorated in bright or primary colors. End tables made from curved wrought iron, glass, marble or brass give the decor a modern flair. If space is limited, consider a set of stacking end tables that can be tucked into a corner when not in use. End tables with drawers provide storage for coasters, CDs, DVDs and magazines.
Other Table Heights
Just as end tables are designed to provide easy access to items while seated on a sofa or chair, other tables are built to accommodate other needs. Coffee tables are typically between 12 and 18 inches high to offer easy access to items while seated and provide a makeshift footrest. Kitchen tables are usually between 28 1/2 and 30 inches tall so accompanying chairs fit underneath and a seated person is at an appropriate level with the tabletop.
References
Writer Bio
Cassie Damewood has been a writer and editor since 1985. She writes about food and cooking for various websites, including My Great Recipes, and serves as the copy editor for "Food Loves Beer" magazine. Damewood completed a Bachelor of Arts in English with an emphasis in creative writing at Miami University.
Photo Credits
Jupiterimages/Photos.com/Getty Images
Jupiterimages/Photos.com/Getty Images
More Articles