How to Tell a Real Chesterfield Sofa
British furniture manufacturers generally attribute the distinctive style of the chesterfield sofa to Philip Stanhope -- the 4th Earl of Chesterfield -- though some historians would argue that point.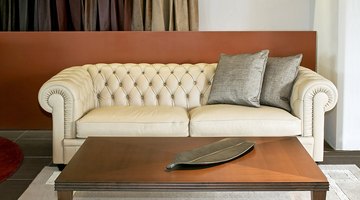 The story goes that Stanhope wanted a davenport for gentlemen that would allow them to sit comfortably straight without wrinkling their clothes, so he commissioned a local craftsman to make him one. Even though some people refer to all sofas as chesterfields, observing some distinctive hallmarks can tell you if your chesterfield is authentic, even if it was manufactured recently.
Telltale Look
An emblem of British craftsmanship, chesterfield sofas display a distinctive look and style. With scrolled arms and rolled backs, the arms and back are of the same padded height. The back, arms, front -- and sometimes even the seat cushions -- showcase deep leather-clad and polished button tufting. The button tufts form a series of diamond-shaped patterns standing on end when you look at them. Notoriously long, the original sofas might be as long as 8 feet or more; two- and three-person versions are also available.
Quality Craftsmanship
A real chesterfield sofa follows the craftsmanship of the original designs. Authentic chesterfield sofas are handmade from the frame up and secured by reinforced corners and stress points with glue and wood screws. On chesterfields with areas of exposed frames, as on the front of the sofa's arms, several coats of a polish or finish are hand-applied and rubbed into the birch or beech hardwood frame, which also may contain brass-covered nails or tacks. Hand-tied loose coil springs prepare the frame for upholstery materials. Look for bun feet made from mahogany.
Material Coverings
The hallmark upholstery material for a chesterfield sofa is hand-cut, dyed leather. Quality leather has natural flaws in the hide and may have differences in color variations. Manufacturers also used velvet -- originally found on chesterfield sofas owned by the upper crust of British society during the 18th century -- and other upholstery fabrics. Though many manufacturers now use urethane foam as the padding, original chesterfields featured high-quality horsehair padding.
Authenticating the Sofa
Manufacturers that pride themselves on staying true to the distinctive chesterfield style often add a label or tag of authenticity with a serial number fitted beneath the couch. This tag means that the furniture-maker followed the original manufacturing techniques -- handcrafting and more -- as described. Since the style is still being produced today, to authenticate an antique chesterfield sofa, you must contact an antique collector, appraiser or dealer. These sofas, at the time of publication, can cost as much as $22,000 or more.
References
Resources
Writer Bio
As a native Californian, artist, journalist and published author, Laurie Brenner began writing professionally in 1975. She has written for newspapers, magazines, online publications and sites. Brenner graduated from San Diego's Coleman College.
Photo Credits
Marko Beric/Hemera/Getty Images
Marko Beric/Hemera/Getty Images
More Articles