List of Things That Use Light Bulbs
Lightbulbs are a large part of everyday life. They light up everything from rooms to appliances that we use all over our homes, especially in our kitchens. They're in microwaves, ovens, refrigerators and in lighting fixtures. It's best too keep track of them for future reference.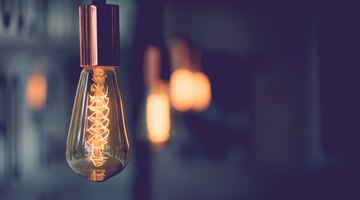 Light bulbs are a big part of everyday life now. They make it easier to use certain appliances and are now a necessity in our hectic lives that often start before the sun comes up and don't end until hours after sundown. When you walk through your home, there are so many different ways that light bulbs are used to illuminate what we do.
It's important to know just how many areas of our home use them in order to keep track of how many you have, the types of light bulbs they are and how to replace the bulbs when necessary.
In the Kitchen
There are several appliances in any kitchen that use light bulbs. Both freezers and refrigerators use lightbulbs that turn on whenever they're opened. These lights are usually made to withstand extreme temperatures and are more likely to be incandescent lightbulbs, but there are also LED lights on the market for refrigerating units, as well.
Ovens and microwaves use lightbulbs as well. When a microwave is open, or when it is turned on to heat up food the light is also on. They tend to be 40-watt incandescent or halogen lights and are pretty cheap to replace. They can last a while since a microwave isn't used as often as a ceiling light. Oven lights are necessary for checking on f0od without opening the oven and letting all of the hot air out. Like microwaves they also tend to be halogen or incandescent lights.
Bedrooms and Living Areas
Throughout the rest of your house, you'll find ceiling or wall lights that use a variety of bulbs. Some homes still have yellow incandescent bulbs. But for a more eco-friendly and cost effective approach to lighting, it's best to use compact fluorescent lightbulbs. They use up approximately 75 percent less energy than incandescent lights and last much longer. Though they are more expensive to purchase upfront, because they last longer than incandescent lights they practically pay for themselves.
Some bedrooms and living rooms also have different types of chandeliers that use either incandescent or fluorescent bulbs. There are also decorative drop lights that are a singular light fixture that hangs from a chain or chord. They're usually found over dinette areas or kitchen islands.
Extra Lighting
There are lights on garage door openers. Like indoor lighting fixtures these use light bulbs that can be LED light bulbs, incandescent lights or fluorescent lights. Buying lights that are specifically for garage doors in mind makes it so that they're more likely to be shatter and vibration resistant. This is especially useful for any household that uses a car regularly and needs to open and close a garage door on a regular basis.
Flashlights are also very useful for emergencies like storms and power outages. There's a variety of flashlights on the market. Newer versions use LED lights, last a lot longer and emit a brighter light than older flashlights.
References
Writer Bio
Angely Mercado is freelance writer in NYC whose work is in NPR, Lenny Letter, BK Based, and more.
More Articles