How to Stop Your Washing Machine From Walking
Are you tired of your washing machine walking across the floor and trying to follow you around the house? Excessive vibration during the spin cycle can do extensive damage to your floor and the machine itself. Fortunately, there are simple ways to reduce vibration and to stop your washing machine from walking.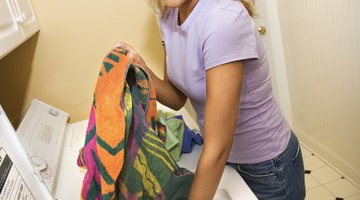 Follow the manufacturer's instructions in the operating manual for removing the transport bolts and installing the washing machine on a solid, firm floor.

Use a spirit level or bubble level to determine when your washer is level. Start with the feet screwed in as far as possible, then pull out as necessary, based on the level's readings.

Place non-slip gripper pads underneath the feet of the washing machine. Gripper pads can be bought at most home improvement stores and are usually placed underneath large furniture items to prevent moving or slipping. The gripper pads are particularly effective for keeping washing machines from walking if placed on a vinyl or linoleum floor.

Mix small and large items to balance the wash load. Ensure that large items are weighted appropriately. For example, jeans and bath towels are very heavy when wet, so balance the load by washing an even number of large, heavy or bulky items.
Things You Will Need
Spirit or bubble level
Non-slip gripper pads
Warning
Always ask for help when lifting the washing machine so you don't hurt your back.
Check out this related video.
References
Writer Bio
This article was written by PocketSense staff. If you have any questions, please reach out to us on our contact us page.
Photo Credits
Jupiterimages/Comstock/Getty Images
Jupiterimages/Comstock/Getty Images
More Articles