Foyer Table Entryway Decorating Ideas
A foyer table is a traditional way to warm up an entrance space and show guests your style and interests. No matter how big or small the space, a foyer table adds definition to the area and makes the entrance to the home feel welcoming.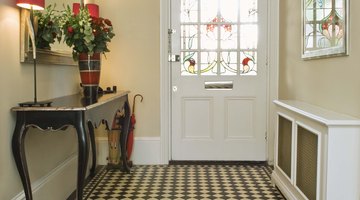 A photo display is a traditional way to decorate a foyer table, but it isn't always the safest idea or the most creative way to design the area. Consider your personal interests and the decor in the rest of your home, and then bring some of those elements onto your foyer table. Whether you use antiques, an animal theme or items that will make guests smile, your foyer table decorations are your first impression and should reflect the personalities of those within your home.
Mail Call
Many homes find the foyer table to be a dropping point for keys and mail. Play up that theme when you create an eye-catching display while maintaining the functional purpose of the space. When you frame and display antique or vintage letters and postcards over the foyer table, you set the tone for a nostalgic and mesmerizing foyer decor. Bring the letter-writing theme to the table surface with the display of a classic, antique black typewriter, vintage ink pens and old stamps. Add a collection of old skeleton keys and a container for current mail and keys to complete the space.
Fish or Fowl
Bring the natural environments that you love into the foyer. Create a cheerful greeting for your guests by highlighting the serene nature of water and fish. When you place a nicely adorned glass goldfish bowl and fish or Siamese fighting fish on a foyer table, you develop a friendly foyer environment for adults and kids. Add drama with a display of fish fossils and a large, water-related art print over the table to complete the theme.
Bird lovers can make a big impact in the foyer with a colorful collection of bird figurines, shabby-chic birdhouses or vintage metal birdcages. Add interest to the display by using risers to create different levels on the table. A collection of nature photos featuring local birds will make the space feel cohesive and complete.
Seasonal Displays
A foyer table is a useful space to highlight your enthusiasm for various seasons and holidays. Let your creative juices flow when you set up a display of antique Christmas ornaments or a festive winter scene, or highlight the changing colors of autumn. Any season or holiday can inspire an eye-catching display that sets a color or style theme for the rest of the house. A stroll through a local hobby shop or home decorating store will inspire plenty of ideas for your one-of-a-kind foyer table decorations.
Novelty
Just because the foyer is a traditional place to greet guests doesn't mean your foyer table decorations need to be traditional. Display your unique sense of humor and style when you use some of your favorite things to decorate your foyer. A Barbie doll, Mickey Mouse or superhero figure collection will inspire "oohs" and "ahhs" from guests, while a display of rubber duckies, a gumball guessing game or amusing pictures of family and friends will have people laughing and filling your home with good vibes.