Price Comparison of Tile Vs. Carpet
Table of Contents
Deciding between tile and carpet depends upon your home, family and lifestyle. Comparison shop and learn the advantages and disadvantages of both floor types. Know these pros and cons, before walking into a flooring store, and the right choice comes easily.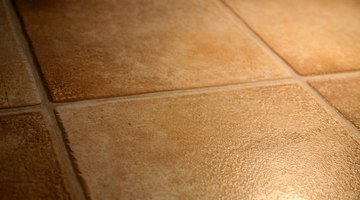 Tile Advantages
Stone, ceramic, terra cotta and mosaic make up the four main categories of hard tile. Certain similarities exist among the four types. Cleaning tiles comes easily and the surfaces show extreme durability with little maintenance. Choose hard tile for homes with animals, children and active lifestyles.
Carpet Advantages
Made from four main fibers (wool, nylon, olefin and polyester), today's carpets include tough, stain-resistant finishes. Choose carpet when the climate has a long cold season because carpet retains heat and feels comfortable on cold mornings. Installed quickly, carpet includes a wide variety of colors, textures and weaves. Change decor dramatically with carpet.
Carpet Costs
Pricing carpet depends upon the quality, density and fiber. Look for thicker density in higher-end carpets which cost $45 per yard (including labor) or more. Carpets with a medium-density run in the $25 to $35 range (including labor). Cut costs by removing and disposing of old carpet yourself.
Tile Costs
Expect to pay more for marble, granite and slate tiles. Terra cotta and ceramic tiles cost the least, depending upon the brand and quality. Hard tiles range in price from $1.39 (terra cotta) to more than $25 (marble) per 12 inch by 12 inch tile (without installation). Skilled tile installers come at a high price. Cutting corners on labor leads to a poorly finished and hard to repair job.
Weighing the Options
Active households do better with hard tile in high-traffic areas. Install tile when looking for a durable flooring with a long lifespan. Adding cold tile to bedroom and family room floors in colder climates, makes little sense. Carpet adds warmth and color in a quick, dramatic way.
References
Resources
Writer Bio
Jennifer Marlowe is a seasoned journalist with experience since 1994. As a former reporter and columnist, she has written for a variety of publications including "The Cleveland Plain Dealer," "Sew Simple Magazine," "Northern Ohio Live," "Ohio Game & Fish" and "The Country's Best Log Homes." Marlowe holds a Bachelor of Arts in English literature from the University of Akron.
Photo Credits
Jupiterimages/Photos.com/Getty Images
Jupiterimages/Photos.com/Getty Images
More Articles