Difference Between a Light Filtering Shade & Room Darkening
Window shades come in a variety of materials and styles for meeting multiple purposes. A light-filtering shade allows light to penetrate through the shade material, but does not provide enough blockage to ensure privacy.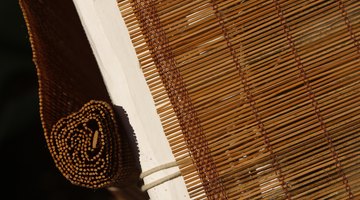 A window shade made of solid or tightly woven material sufficiently blocks light for providing privacy. Depending on the location of the window, a shade filtering bright light is typically sufficient. Bathrooms and bedrooms require room-darkening shades or window coverings providing appropriate privacy.
Managing light exposure
Filtered natural light enhances a room's architectural features and decor, but unfiltered light magnified through window glass can fade and damage flooring, furniture and upholstery. Selecting window blinds according to each room's needs varies your decor and ensures that each room receives the appropriate amounts of light and privacy. Some window shades are also designed for insulating rooms from drafts and preventing the escape of heat. Managing light exposure using window shades and other window coverings assists with reducing energy costs and maintaining a consistent indoor climate.
Light-filtering window shades
Window shades made from thin or coarsely woven materials are examples of light-filtering window shades. Honeycomb-style window shades are constructed of two fabric layers separated by a framework. These shades are designed to filter sunlight and provide insulation, but are also available in room-darkening styles. Roman shades and sun screen window shades are also options for filtering light. These options may provide privacy during daylight, but would not provide privacy at night when the room is illuminated.
Room-darkening window shades
Window coverings can be designed or supplemented to provide darkness and privacy. Window shades made of solid materials such as vinyl can darken a room, and fabric shades can be constructed with dark or "black out" fabric useful for darkening a room. Hotel rooms often have drapery that "blacks out" rooms against daylight. Black-out shades are helpful for facilitating sleep and ensuring privacy. Other types of window shades useful for darkening a room are blinds and shutters with adjustable louvers. These can be adjusted for admitting the desired amount of light, or adjusted for blocking light. Their versatility makes blinds and shutters popular choices for shading and blocking windows.
Selecting Window Shades
Consider your home's interior and exterior appearance when selecting window shades. A uniform appearance on the exterior of your home promotes your home's curb appeal and complements your home's exterior architecture. Select window coverings according to their desired function. A light-filtering shade appropriate for your family room won't work as well in your master suite. Shop for window shade styles online and in stores. If you want both room-darkening and light-filtering capability, consider installing shutters or layering window treatments such as black-out drapery over light-filtering window shades.