How to Hang Curtains Without Rods or Hooks
Hanging curtains can be daunting. If you don't want to use the traditional curtain rod or hook, there is a way to accomplish this task simply. There will be no need for drilling or making unsightly marks on your wall.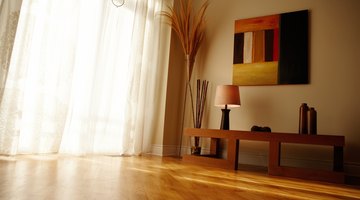 Things You Will Need
Curtains
Wire
Two Nails
Hammer
Warning
Ensure that the nails are secure. If they are not in the wall deep enough, the nails could fall out and cause injury.
Place a nail on each side of the window frame. The size of the nail is up to you; you can use a 1/2-inch, 1/4-inch or 3/4-inch nail. Use the hammer to place the nails securely on the sides of the window frame. The nails should be high up on the window frame, and they should be facing the ceiling.

Thread the wire through the opening of the curtain that is traditionally used for the curtain rod. You should use enough wire to match the length of the curtains, and leave several inches of excess wire to wrap around the nail. The wire should be stiff but light enough to wrap around the nail.

Wrap the excess wire around each nail several times until there is no more left. Make sure the curtains are at the top of the window frame and they are not slouching.

Position the curtains however you desire. The wire will allow you to easily move them.
References
Writer Bio
Based in New Jersey, Ashley Leonard has been writing professionally since 2007. Her articles have appeared on rsportscars.com and various other websites. Leonard holds a Bachelor of Arts in communications from Marymount Manhattan College.
Photo Credits
Jupiterimages/Photos.com/Getty Images
Jupiterimages/Photos.com/Getty Images
More Articles