Intex Pool Vacuum Instructions
The Intex pool vacuum system is a little different than most other vacuum methods that you would use on the pool floor. The type of system that Intex provides does not hook to the pool pump, but works independently.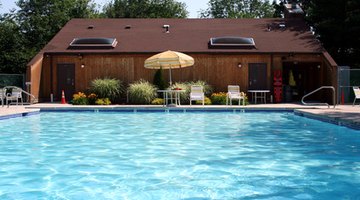 The system is unique in the way it works and requires no adjustments to the pool pump, but does require water pressure.
Things You Will Need
Garden hose
Vacuum head
Vacuum debris bag
Hose nozzle attachment
Telescoping shaft
Tip
The vacuum head works with the water pressure to suck up the dirt into the debris bag so the pressure should be adequate enough for the vacuum to work. You may have to adjust this a few times.
Hook up the garden hose to the house spigot. The hose will need to be long enough to reach from the house to the farthest part of the pool with a little slack so you don't need to stretch or strain the hose.

Put the two pieces of the telescoping shaft together by inserting one end into the other and twisting counterclockwise to lock in place.

Align the shaft with the vacuum head where you see the spring. Squeeze the plastic tips of the spring together until the shaft slips into the vacuum head.

Attach the debris bag to one side of the vacuum head. Use the ties on the bag to tie the bag to the vacuum head.

Attach the garden hose adapter nozzle to the opposite side of the vacuum head. Clip the hose to the telescoping shaft and wind the hose on the adapter nozzle. Note: There is a flat washer that comes with the adapter that must be placed inside of the garden hose coupling.

Turn on the water so that there is water pressure. The first time that you use the vacuum system, you will have to adjust the water output so that you are getting the correct water pressure to allow the vacuum to suck up the debris on the pool floor.

Place the vacuum head on the pool floor and slowly glide it around the pool to clean the debris.
References
Writer Bio
Pamela Gardapee is a writer with more than seven years experience writing Web content. Being functional in finances, home projects and computers has allowed Gardapee to give her readers valuable information. She studied accounting, computers and writing before offering her tax, computer and writing services to others.
Photo Credits
Swimming pool and pool house image by Jim Mills from Fotolia.com
Swimming pool and pool house image by Jim Mills from Fotolia.com
More Articles