Form and Function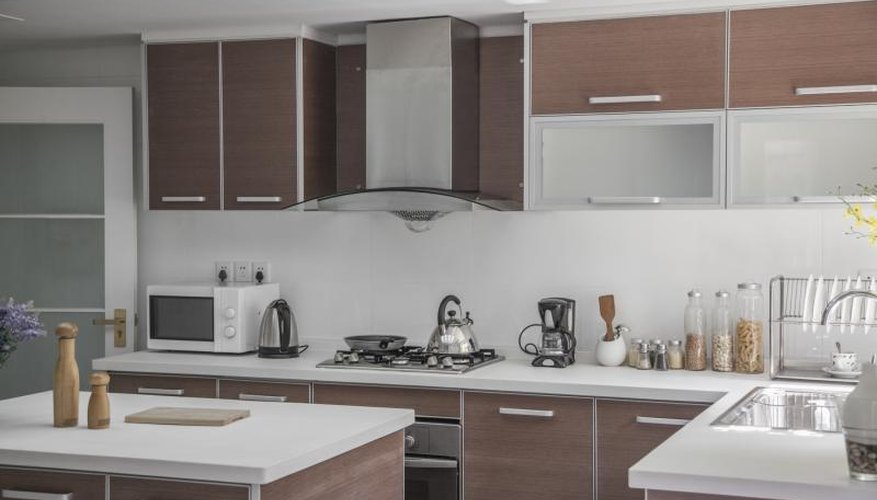 But while "contemporary" and "modern" are often used interchangeably, the terms refer to different decor styles. Modern refers to Mid-Century Modern, while contemporary styling is a moving target, reflecting trends and technical advances in home kitchen equipment and designs that are always cutting-edge and fresh. Emphasizing function blended with stylish appeal, contemporary kitchens offer a natural home for the serious cook.
Contemporary kitchens incorporate up-to-the-minute advances in appliances and furnishings, such as articulated faucets that put the water where you want it. Soft-closing cabinet doors, smart cook tops, energy-efficient refrigerators and dishwashers are other examples. Space planning is equally important; contemporary kitchens often accommodate serious cooking and entertaining with maximum efficiency. Appliances are often finished with the same color and material as the cabinets, giving the kitchen a seamless, unified look.
Materials and Colors
A typical contemporary kitchen mixes white or neutrals with stainless steel and a single striking color to create a palette that's exciting, yet refined. Often the color element is pulled from wood paneling on the cabinet fronts or the streamlined backsplash tiles behind the the sink, but it may be a color shade such as hot red, lime green, sunny yellow or muted lavender. The color will be repeated in the kitchen island, breakfast nook, area rug and other furnishings to create rhythmic decor cohesion. If the kitchen is part of a great room or open floor plan, the natural materials and color element are often extended to the living areas to blend the kitchen seamlessly.