What Is a Cricket Chair?
Cricket chairs can be quite ordinary, plastic and ready to sit in the garden all summer. Other cricket chairs are avant-garde and stylish in design. A 60-year-old U.S. patent office application for cricket chair covers tells another story again. So a cricket chair can be many designs, but not a place where crickets hang their clothes before getting into their cricket bed.
.
Patent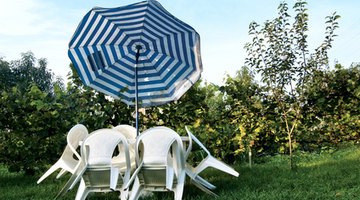 Elfreda M. Yerby of Alabama, in her 1951 application to patent her cloth chair covering invention, says it specifically relates "to the type of chairs generally known in the trade as cricket chairs." Her support drawings indicate the cricket chair, also called a "cricket-type chair," is a high-backed rocking chair with wooden arms.
Antique
An on-site illustration of the Laurel Ridge Antiques "American Cricket Chair" shows a 19th century mechanical wooden chair capable of three positions, with leather and upholstery brads. The wooden arms have a higher setting than the illustrations of the "cricket-type" chair which Elfreda Yerby sought a patent to cover, and the seat is deeper.
Ultra-modern
Royal TreeHugger announced a new cricket chair in 2005, "from sustainable super-designer Danko Persing." It looks nothing like the other two. The arms are gone, the seat and back are minimalist and bent to create comfort for the seated person. They rest on recycled car-tire rubber and the legs are tubes that move with the sitter. The makers use non-toxic, water-based adhesives and put the chair out in eight colors. It costs $500 in 2010 prices.
Solid
Dutch designer Loll's cricket chair is a contemporary garden chair and needs no maintenance, ever, according to its website. It is chunky, with simple back and seat angles, says Loll. The chairs are recycled plastic, ½-inch thick, and make sitting for long periods very comfortable. This cricket chair comes in solid back, slotted back or small slit designs.
Steel and Plastic
The Modern Flat website features another design, the cricket chair from 1991, which it claims may be one of the best designs available. The construction is steel and the finish plastic. The website says that as an open-air café chair it handles all weathers and withstands plenty of use. This cricket chair stacks easily and brings charm and style to restaurants or anywhere people use it, says the website. The Italians rate it the most popular restaurant chair, and you will find it at Armani restaurants in the U.S.
References
Writer Bio
Geoffrey Darling has been writing since 1980. In 2007, he received an Ohio Senate award for contribution to the arts, recognizing his work performing in Ohio prisons. Darling also worked for the New Zealand government as the Minister of Energy's press secretary and edited three small community newspapers.
Photo Credits
More Articles