How to Authenticate an Eames Chair
Charles and Ray Eames, an architect and an artist, were the power couple of American Mid-Century Modern furniture. They developed spare, utilitarian and colorful stools, sofas, tables, screens, desks and toys, but it was their sleek, urbane and wholly original chairs that captivated public attention and established their brand. An early Eames chair in good to perfect condition is a valuable collectible; authenticate any purported Eames furniture purchase before you shell out the big bucks.
Chair Museum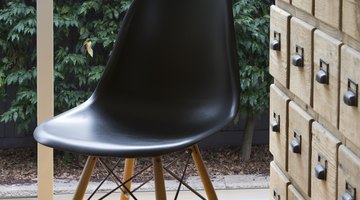 A collection of the output of the Eames chair factory would cover the full range of seating options, from stools and ottomans to rockers and chaises. The stackable molded fiberglass and plywood chairs are an iconic -- and very practical -- Eames design. The addition of wooden rockers to the wire legs created a comfortable bucket-seat rocking chair with a small footprint and a low price. Molded plywood added a few spare curves to cafeteria-style chairs and no-nonsense living room seating. Lounge chairs were a precisely engineered fusion of padded leather and molded plywood or hardwood. A chaise, called "La Chaise" after Gaston Lachaise's sculpture "Floating Figure," which inspired it, is a sleek sweep of bonded fiberglass, chrome base, and oak that invites you to sit or recline.
Eras and Labels
Earlier is more valuable if the chair's condition is original or close to it. Carefully preserved pieces dated from the decade between 1946 and 1956 go for top prices. The Eames production stepped up after the war years, when homeowners were furnishing their modern houses and stretching limited budgets for the highest affordable style. Chairs built up to the mid-1960s are prized finds, but knock-offs -- often pretty good ones -- are everywhere, so buyer beware. Look for stickers and paper labels, which are usually affixed to the bottom of a chair. The only name on the off-white, black or red labels is Charles Eames, and they might include the manufacturer, the Herman Miller Furniture Company, with a California or Michigan address. Monograms that were sometimes stamped or handwritten on the chairs are still used to identify the models today. DCM stands for Dining Chair Metal; LCW means Lounge Chair Wood; and DCW means Dining Chair Wood.
Finishing Touches
The manufacture of the chairs provides some of the best clues to authenticity, from the meticulous finish that hides nuts and bolts out of sight, to the rosewood used for the first molded lounge chair and ottoman. Even the authorized current edition of the molded lounge chair doesn't use rosewood any longer, as cherry and other fine hardwoods are easier to obtain. The proportions of the chair seat and ottoman are identical, so the removable cushions from each can be swapped. Eames developed identifiable rubber aircraft-style shock mounts to attach wood seats and backs to metal bases and fiberglass shells to aluminum and other metal legs. The first legs used for the metal chairs were stamped metal, which evolved in the 1950s to bent and welded wire.
Authentic Appreciation
The Eames chairs were designed for average buyers, to be mass-produced at an affordable cost. This objective was reflected in the materials used and the exhaustive experimentation with simplifying production. A chair sold for about $10 to $15 in the 1940s, while, as of the time of publication, a molded fiberglass stacking side chair costs about $399 retail. The price of an authentic vintage Eames collectible chair varies but could be much higher, if it is in good condition. The La Chaise, a flirtation with design that was too specialized to be cheaply produced in 1948, is still manufactured to the specifications of the one in the Museum of Modern Art's permanent collection. If you can find an original, the price would reflect its rarity. The price for a new La Chaise is nearly $11,000 as of August 2014. Be suspicious of mint condition chairs, presented as authentic early Eames, at bargain prices.
References
Resources
Writer Bio
Benna Crawford has been a journalist and New York-based writer since 1997. Her work has appeared in USA Today, the San Francisco Chronicle, The New York Times, and in professional journals and trade publications. Crawford has a degree in theater, is a certified Prana Yoga instructor, and writes about fitness, performing and decorative arts, culture, sports, business and education .
Photo Credits
Jodie Johnson/iStock/Getty Images
More Articles