Mattress Firm Return Policy
Mattress retailer Mattress Firm recognizes that testing a mattress briefly in a store doesn't ensure long-term comfort and support. Though Mattress Firm doesn't accept returns for refund, it does offer exchanges through a program called the 90 Day Comfort Guarantee. With more than 500 stores in 22 states, the franchise sells Tempur-Pedic, Sealy, Simmons, Stearns & Foster, Sleep to Live and Serta mattress sets.
Time Frame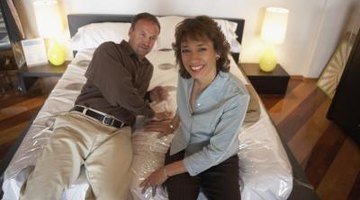 Mattress Firm's Comfort Guarantee requires you to sleep on your new mattress for a minimum of 30 nights. After that, if you don't find the mattress comfortable, you may exchange it for another within 90 days of your delivery date.
Exchange Terms
You must select the new mattress from the store where you made the original purchase. If your new selection costs more than the original mattress, you pay the difference. Select a mattress of equal or greater value, because Mattress Firm will not refund the difference if the new selection costs less than the original. Stained or unsanitary mattresses do not qualify for exchange. Mattress Firm's Comfort Guarantee permits only one exchange, but manufacturer's warranties apply to new selections.
Additional Fees
Mattress Firm charges 10 percent of the purchase price as a processing and handling fee on mattresses exchanged under the Comfort Guarantee. Customers must also pay a local delivery charge for the new mattress, in addition to the fee paid for delivery of the original mattress.
Exempt Merchandise
Mattress Firm excludes special order, floor model, warranty exchange and clearance mattresses from the Comfort Guarantee. Additional exempt merchandise includes adjustable bases, furniture, promotional and accessory items, mattress protectors and Tempur-Pedic pillows.
Excluded Stores
Mattress Firm's 22 stores in Tennessee do not offer the Comfort Guarantee. Tennessee state law prohibits the sale of used mattresses and forbids mattress manufacturers, wholesalers and retailers from offering comfort exchange policies, according to the Tennessee Annotated Code.
References
Resources
Writer Bio
Leah James has been a full-time freelance writer and editor since 2008. With more than a decade of experience in interior decorating, she frequently writes about home design. She studied English literature at Lyon College.
Photo Credits
Jack Hollingsworth/Photodisc/Getty Images
More Articles