Cheap Southwestern Decor & Decorating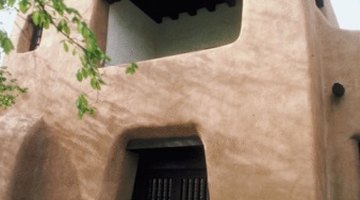 A specific architectural style carried throughout the house creates architectural charm. When decorating a house with a specific style, it is often necessary to continue the decor theme, otherwise the house decor can feel confused. In the Southwest the decor favors colors of the sky and soil, adobe walls with round-edged corners, exposed beams and rustic tile floors. With a careful selection of color, furnishings, rugs and art, you can decorate in Southwest style even on a tight budget.
Bring in the colors of the Southwest on your walls. Paint is considered the most effective way to transform a room on a budget. Select a warm sun-washed palette that works together in rooms that are visually connected.

Highlight a focal wall in each room by changing the wall color to a more vibrant color in the same color family. Show off an adobe rounded fireplace by painting the fireplace in a color that contrasts with the wall.

Select neutral furniture colors in earth tones, with turquoise accents. Southwestern style often incorporates carved woods, iron, metals and colors in the environment. Earthy colors are common on upholstered furniture and can be found in second-hand stores, or slipcover existing furniture to neutralize the furniture color. Look for inexpensive and colorful Navaho-style throws to drape over the side and back of a sofa or bed to add an immediate Southwestern flavor and a pop of color.

Create unusual end tables by adding glass tops to large terracotta pots filled with rattan balls, corks or other organic objects. Paint a Southwestern border on inexpensive sisal rugs to unify rooms and add a textural element.

Make Southwestern-style window valances using colorful , inexpensive fabric and interesting ties or trims. Look for found objects with a western flair such as old belts, boots or jewelry to add interest to window treatments.

Paint lamps and lampshades with the colors and themes you like. Look for design inspiration in resort magazines. Most objects can be painted to neutralize or change their appearance. Add trims like rope, buckles, branches and other items to transform bland objects into Western objects. Use a hot glue gun to attach decorations to lamps, furniture or as art.

Arrange large terracotta pots with plants or as storage containers in small groups. This color evokes the Southwest and the pots can be used to store almost anything for very little money. Visit garage and yard sales to pick up inexpensive Mexican art that is brightly colored and fun. Group this art on a shelf or table top for impact.

Tip

Have fun with your decor and try not to be too theme oriented. A good room evokes a feeling of being in the right location; it shouldn't feel fake or contrived.
References
Writer Bio
F.R.R. Mallory has been published since 1996, writing books, short stories, articles and essays. She has worked as an architect, restored cars, designed clothing, renovated homes and makes crafts. She is a graduate of the University of California at Berkeley with bachelor's degrees in psychology and English. Her fiction short story "Black Ice" recently won a National Space Society contest.
Photo Credits
Jupiterimages/Photos.com/Getty Images
Jupiterimages/Photos.com/Getty Images
More Articles