Difference Between Mediterranean & Tuscan Decorating
The Mediterranean and Tuscan styles of decorating use warm colors and earthen accents and provide a rustic look with a relaxed feel. While there are many similarities, it is important to note the differences between the two terms.
Influences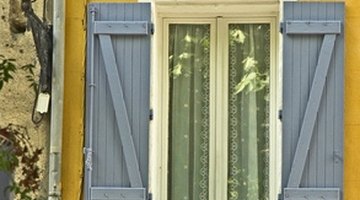 Mediterranean-style decorating takes its influence from Southern European countries such as Spain, Italy and Greece. Tuscan-style decorating comes from Tuscany, a region in central Italy and takes its influence from the Italian countryside. While the two names are often used interchangeably, the Tuscan style does not incorporate all aspects of the Mediterranean style.
Tuscan Decorating
Tuscan-style decorating uses earth colors such as burnt terracotta, ochre, orange, muted yellow and olive green. Solid-wood, sturdy furniture is often used. Flooring may consist of terracotta tiles or wood floors with antique rugs. Walls are often textured with Venetian plaster or faux painting. Wrought iron accents, Italian ceramics and pottery finish the look.
Mediterranean Decorating
The Mediterranean style encompasses many of the same elements. However, there may be variations based on the region such as the Spanish style or Greek style of decorating. For example, white painted walls with blue accents are often used in Greece.
References
Writer Bio
Lisa Hall began writing professionally in 1998. In addition to freelance writing, she worked as a graphic designer for international nonprofit organizations for six years until she started a home staging business in 2009. She frequently writes about art, design and home improvement. She holds a Master of Science in European social policy from The London School of Economics.
Photo Credits
fenster in collobrieres image by Weimar from Fotolia.com
More Articles