Siding Colors That Match Brown Trim
If you are in search of siding colors that will match your brown trim, you fortunately have a plethora of options. Brown, a mix of all colors, duly complements almost any other color. The only thing you will need to contemplate is the impact you seek. You can go strong, classic, conservative or anywhere in between to match brown.
White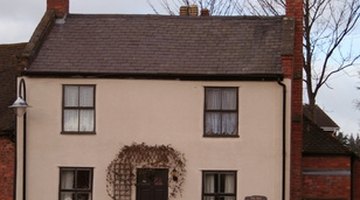 The simplest and most no-fail option to brown trim is to purchase white siding. While you will be assured of a classic match, you may find that a white house shows staining or dirt more easily. In this case, you need to compare ease of selection against ease of care.
Monochrome
The next-simplest option is another brown, lighter siding if you have a dark brown trim and darker for lighter trim. It is not an amazing contrast, but it is also an impeccable match.
Warm Contrast
Warm colors that insert hues into your house color scheme offer another palette of options. Browns, whether sand, chocolate or in between, have an inherent warmth that harmonizes with warm colors. Muted oranges or orange creams are brassy choices. Deep reds like ruby are less sharp but pack plenty of color. Brick reds, which are more neutral, or a historic red that has a touch or brown mixed in are toned-down warm colors that will please.
Earth Colors and Toned Neutrals
Earth colors from other areas of the palette provide more options. Sage and olive will contrast without clashing. A gray-mauve mixture is understated but rich and has a contemporary edge.
References
Writer Bio
Bill Brown has been a freelance writer for more than 14 years. Focusing on trade journals covering construction and home topics, his work appears in online and print publications. Brown holds a Master of Arts in liberal arts from St. John's University and is currently based in Houston.
Photo Credits
house with steps image by hazel proudlove from Fotolia.com
More Articles