Instructions for a Herman Miller Ethospace Cubicle
Herman Miller is a company well known for making innovative office furniture. Some of the pieces it has produced over the years have become icons of industrial design -- including the Eames Lounge Chair and the Aeron Chair, which are both part of the Museum of Modern Art's permanent collection. Herman Miller is also credited with inventing the office cubicle in 1968. The Ethospace System is the company's line of modular desks, walls and shelves that can be combined in many different ways. It includes a basic cubicle that is easy to put together.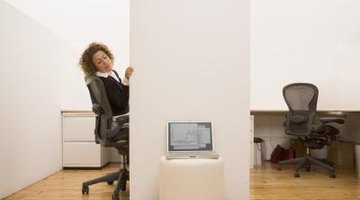 Step 1
Hold up one frame piece in the spot that will be the back of the cubicle.
Step 2
Have a helper hold up a second piece at a 90-degree angle with the first place to form the left wall of the cubicle.
Step 3
Attach an angle connector to the top of the intersection between the two pieces. It simply snaps into place. Make sure your walls are straight and meet at a 90-degree angle. Otherwise, the angle connector won't attach properly.
Step 4
Lift up the corner slightly, and slide another angle connector at the bottom of the intersection between the two panels. Snap that one in place as well.
Step 5
Repeat steps 2-4 for the right wall.
Step 6
Adjust the leveling feet at the bottom of each panel, if necessary.
References
Writer Bio
Christine Brown has worked for various Midwest newspapers since 1996, including the "Chicago Sun-Times." She is currently a craft blogger and curator of craft tutorials for an online publication, specializing in knitting, paper crafts, printmaking and paper mache. Brown holds a B.A. in journalism and anthropology from the University of Arizona.
Photo Credits
Jupiterimages/Comstock/Getty Images
More Articles