Step 1
Measure and cut another joist the same size as any joists that are split, broken or otherwise damaged. Clamp the new sister joist alongside the older joist. Drive 3-inch (7.5-cm) galvanized screws through the sister joist to attach it; remove the clamps. Drive two screws through the end joist into each end of the new joist. Drive one deck screw through each piece of decking and into the new joist.
Step 1
Measure the width of the spaces between the joists. Add 1/8 inch (3 mm) to that measurement and mark the total length onto a board of the same thickness and width as your joists. Cut the board at your mark to make bridges for every 6 to 8 feet (1.8 to 2.4 m) of joists.
Step 2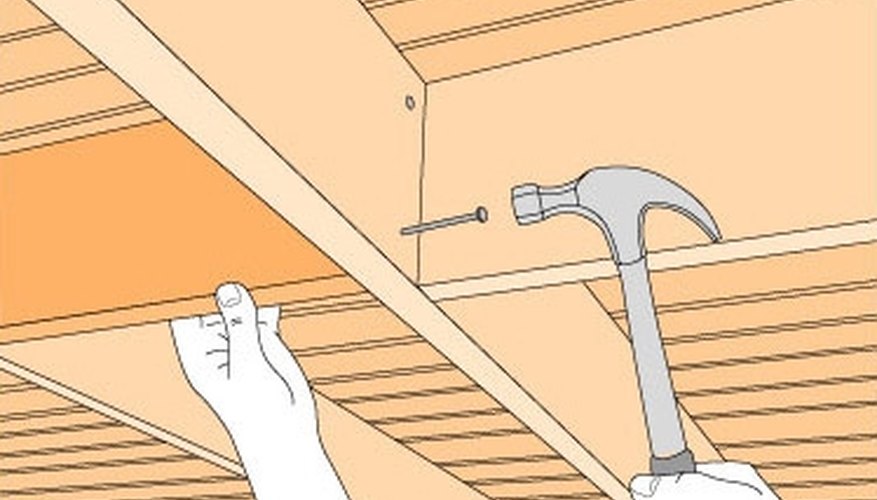 Tap a bridge into place between the joists, and drive two nails or screws through the joists into each end of the bridge (see illustration). Install the other bridges, each offset from the previous one by several inches (about 7 cm) so you have room to drive in the nails or screws.
Things You Will Need

Boards Of The Same Size And Wood As Current Joists
Clamps
Electric Drill With Screwdriver Bit
Electric Saw Or Handsaw
Galvanized Screws Or Nails
Hammer
Tape Measure
Tip
For low decks with no space to work below them, you'll have to remove the decking to add sister joists or bridges.