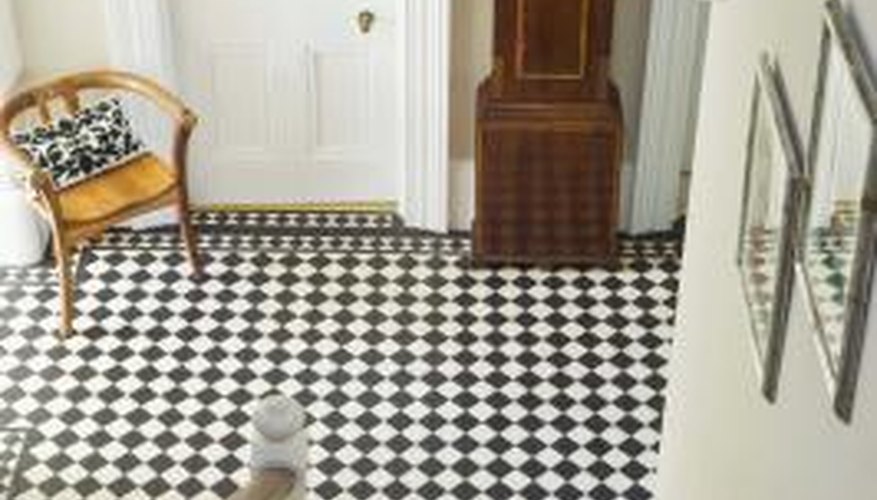 This space is often a favored spot for personal photos that you hold near and dear, as well as for some fine art pieces. Arranging them properly will make the most of the stairway's display potential and allow you to bring out some pictures that have been hidden away, because you didn't have the space for them.
Step 1
Use a theme to help you select the pictures for your wall. For example, you may choose to emphasize family photos or a series of wildflower pictures you took on your last vacation. Select pictures that complement your decorating theme.
Step 2
Lay your pictures down on the floor in the order you'd like to hang them on the stairway wall. Cluster them in combinations until you're satisfied that the pictures you place together will look good in those groupings. If you've chosen a theme based on color, cluster pictures with the same color in them together. For example, group your pictures of orange flowers together.
Step 3
Place the end of your tape measure on the bottom stair and stretch it up until you reach 57 inches in height. Mark the wall at that spot.
Step 4
Pound the nail into the wall and hang your picture on the wall above the step. The middle point on the picture should be at eye level.
Step 5
Measure the wall so that the next picture that you'll hang on the next level up is also at eye level; if you have a grouping of pictures, make sure the center of the grouping is at eye level. Mark the wall.
Step 6
Continue putting up pictures for the next stair up until you get to the top of the stairs.
Step 7
Make a small mark by the picture at the top of the stairs. The mark should be about 3/4 of the way up the side of the picture frame.
Step 8
Hang each subsequent picture so that the bottom of it is parallel with the mark on the wall beside the picture frame. This positions your pictures evenly on the wall at the top of the stairs.
Things You Will Need

Photos
Pictures
Measuring tape
Pencil
Hammer nails
Tip
A good rule of thumb for when you're creating your picture clusters is to make sure that each grouping is about the same size, so as you ascend the stairs, the overall area of each picture combination looks roughly the same size. For example, you may have one large picture over one stair and over the next step, you could hang a group of two pictures whose measurements together equal the size of the big picture.