How to Make a Tailgating Tent
Make your tailgating party a success with an easy-to-make tent. A portable tent offers protection from light rains and harsh ultraviolet (UV) rays, creating a more-comfortable, outdoor living space before the big game for you and your guests. Supplies are available at many home improvement stores, where lengths can be cut to your specifications. Set up two tents side-by-side for larger events to shelter the food and the guests, or purchase a canopy in your team's colors to show your support.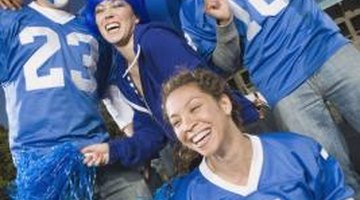 Step 1
Spread out all of the materials on a level site. Separate the roof poles from the leg poles
Step 2
Arrange the roof poles and the connectors on the ground. Position the 70-inch poles parallel to each other, with a 3-way connector piece at each end. Lay one 45-inch pole between the connectors to form the roof shape.
Step 3
Slide the roof poles and the connector pieces together to form the top frame.
Step 4
Spread the tent canopy over the roof frame. Secure each corner of the canopy with ball bungee cords. Put the end of the cord through the grommet, wrap it around the pole and secure it over the ball. Tighten the canopy further by using ball bungee cords in the remaining grommets.
Step 5
Raise one side of the roof frame while a partner slides the 78-inch leg poles into place. Repeat for the legs poles on the opposite side of the tailgating tent.
Step 6
Hammer stakes into soft ground to hold the tent in place or use weighted bags on hard surfaces, such as parking lots, to secure the tent.
References
Writer Bio
Kimberly Dyke is a Spanish interpreter with a B.A. in language and international trade from Clemson University. She began writing professionally in 2010, specializing in education, parenting and culture. Currently residing in South Carolina, Dyke has received certificates in photography and medical interpretation.
Photo Credits
Brand X Pictures/Brand X Pictures/Getty Images
More Articles