How to Get Brown Stains Off My Stainless Steel Kitchen Sink
Regular use of your stainless steel sink will leave brown stains and discolorations on the surface. Stainless steel is a durable material for sinks and with the proper care and cleaning lasts for many years. However, aggressive cleaners can leave the surface of the sink scratched and cause more harm than good. Instead, thoroughly clean the sink with safe and inexpensive household items.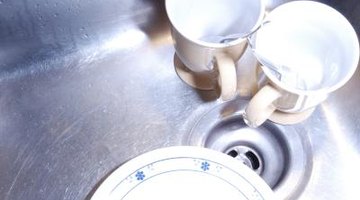 Step 1
Saturate a sponge in pure white vinegar. Scrub the brown stains carefully with the saturated sponge. Rinse the sink with cool water and wipe dry with a lint-free towel. Continue if the stains remain.
Step 2
Add 1 tbsp. of 3 percent hydrogen peroxide to 3 tbsp. of cream of tartar. Stir the peroxide and tartar together to form a thick paste.
Step 3
Apply a dollop of the thick paste to a clean, damp sponge. Scrub the brown stains with the paste in the direction of the grain.
Step 4
Rinse the paste off the stainless steel sink with cool water. Dry with a towel.
References
Tips
Do not use bleach on the stainless steel. The chlorine will react with the steel, causing a permanent discoloration.
Rinse the sink thoroughly and wipe dry with a soft cloth after each use. This will prolong the life of the stainless steel sink and help prevent stains.
Writer Bio
Amanda Flanigan began writing professionally in 2007. Flanigan has written for various publications, including WV Living and American Craft Council, and has published several eBooks on craft and garden-related subjects. Flanigan completed two writing courses at Pierpont Community and Technical College.
Photo Credits
Hemera Technologies/AbleStock.com/Getty Images
More Articles