How to Paint Over Subway Tiles
The standard 3-inch by 6-inch ceramic tiles that often line a bathroom wall or kitchen backsplash received the name "subway tile" because they resemble the tiles commonly found on subway walls. When you tire of your subway tiles and need an inexpensive change, paint over subway tiles using a special paint that will adhere effectively to their ceramic surface. Choose paint in a color that coordinates with other room decor and transform your subway tiles into a new looking wall surface.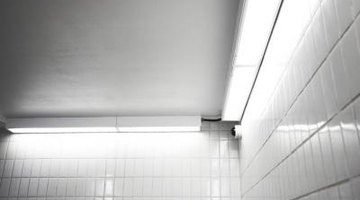 Step 1
Spray the subway tiles thoroughly with the degreasing spray and wipe each tile carefully with the cleaning cloth.
Step 2
Fill the bucket with warm water and add two squirts of dishwashing detergent. Wash each subway tile with the soapy water, rinse the tiles with plain water and dry the tiles with a soft cloth.
Step 3
Saturate a paper towel with isopropyl alcohol and wipe the surface of each tile with the moistened paper towel.
Step 4
Apply the enamel surface conditioner to the surface of each subway tile using the paintbrush. Work carefully to apply the surface conditioner in a thin and even layer. Allow the surface conditioner to dry for about 15 minutes.
Step 5
Load the paintbrush lightly with the enamel paint and apply the paint over a tile. Use careful strokes to outline the perimeter of the tile with the paint, staying away from the grout between each tile. Fill in the inside area of the tile with a thin and even layer of paint. Repeat the process with each subway tile. Allow the paint to dry for at least one day.
Step 6
Apply a second coat of paint to each subway tile, using the same application technique. Allow the second coat of paint to dry for another day. Apply a third coat of paint to each tile. Allow the third coat of paint to dry for 24 more hours.
Step 7
Apply the enamel gloss sealer over the paint with the paintbrush to give the subway tiles a shiny appearance. Allow the sealer to dry for 24 hours before touching the tiles.
Step 8
Allow the painted subway tiles to cure for about 10 days before cleaning them.
References
Writer Bio
Kathryn Hatter is a veteran home-school educator, as well as an accomplished gardener, quilter, crocheter, cook, decorator and digital graphics creator. As a regular contributor to Natural News, many of Hatter's Internet publications focus on natural health and parenting. Hatter has also had publication on home improvement websites such as Redbeacon.
Photo Credits
Thomas Northcut/Photodisc/Getty Images
More Articles