How to Troubleshoot a Bostitch Roofing Nailer
Originally known as the Boston Wire Stitcher Company, the company combined the first syllables of each word to form Bostitch in 1948. The company organized under inventor Thomas Briggs to manufacture fasteners and staples. In 1965, the Stanley-Bostitch company introduced its first coil nailer. Today, Bostitch creates a variety of fasteners and tools used in construction. Troubleshooting a Bostitch roofing nailer involves reviewing key components of the tool.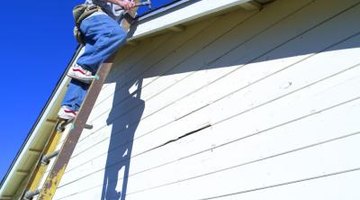 Step 1
Review the magazine area of the nailer for jammed fasteners, one of the more common problems with any pneumatic roofing nailer. If the magazine is worn, replace it.
Step 2
Check that the fasteners are the right size. Inappropriately-sized fasteners or fasteners from a different manufacturer may not work properly in a Bostitch nailer.
Step 3
Tighten all of the screws if you notice a loose magazine or nose screws.
Step 4
Replace the driver if you notice the driver is broken or chipped. A broken driver fails to drive nails completely into the nailing surface, bends the nails or breaks nail heads. Bostitch offers a driver replacement kit for purchase.
Step 5
Stop using the fasteners in the nailer if every one of them comes out bent. Insert a new group of fasteners into the nailer and try those instead. If you have a coil fastener, open the magazine and remove the whole coil and replace it. If you have a fastener that uses nails connected together in a single rack, remove the nail rack and replace it.
Step 6
Oil the nailer if it shoots nails intermittently or skips a nail. Add Bostitch air tool lubricant in the hole in the feed piston cover.
Step 7
Note whether there are broken weld wires on the fasteners. Remove these fasteners and replace them with new ones as they won't feed properly into the nailer.
Step 8
Check the pressure of the air compressor to ensure it is set at the correct setting for the roofing nailer you have. Incorrect air pressure will cause intermittent skipping or feeding of nails. This also applies if the nailer is slow to cycle.
Step 9
Double-check that the compressor's air hose is not crimped or bent.
References
Writer Bio
As a native Californian, artist, journalist and published author, Laurie Brenner began writing professionally in 1975. She has written for newspapers, magazines, online publications and sites. Brenner graduated from San Diego's Coleman College.
Photo Credits
Brand X Pictures/Brand X Pictures/Getty Images
More Articles