How to Make a Sofa Out of a Mattress
A couch or sofa is one of the most expensive pieces of furniture there is. However, you can make a handsome daybed-style couch out of a twin-size mattress and back bolsters. As a bonus, you can easily turn your couch into a guest bed when you have company.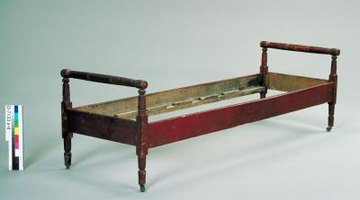 Step 1
Attach matching headboards or footboards to the two ends of a bed frame to make the sides of the couch. Footboards, being lower, are a more appropriate height for this purpose. If you have headboards, cut down the legs to make them lower or use them as-is for a couch with higher sides.
Step 2
Place thick bolsters along one side of the mattress to form the backrest. The bolsters will remain in place without being attached if they are supported by a wall behind the couch. Because an unfolded twin mattress is wider than a couch, it is not comfortable to sit on without the bolsters. Make bolsters from blocks of foam or purchase them ready-made.
Step 3
Cover the mattress and bolsters by draping drape a bedspread or blanket over the entire piece.
Step 4
Add throw pillows for additional comfort and a more finished appearance.
References
Use What You Have Decorating; Lauri Ward
What Do You Say to a Naked Room?; Catherine C. Crane
Tips
Choose a bed frame with no wheels on it; otherwise your couch may slide out when you lean back against the bolsters.
Writer Bio
Emily Goodman is a writer and editor based in Brooklyn, N.Y. She has more than 15 years of experience as a journalist, writer and book editor. Also a trained gardener, Goodman's award-winning children's book, "Plant Secrets," was published by Charlesbridge in 2009.
Photo Credits
Jupiterimages/Photos.com/Getty Images
More Articles