How to Enclose a Patio With a Lattice
A latticework privacy screen lets you see out while grilling, dining or lounging on the patio, but your neighbor's view of your patio is obscured. You also can enjoy refreshing breezes and bright sunlight that stream through the openings in the lattice. Use lattice made of cedar, vinyl or other types of wood that you can paint to match your house. You do not need building experience or expertise with tools to enclose a patio with lattice that will provide many years of enjoyment.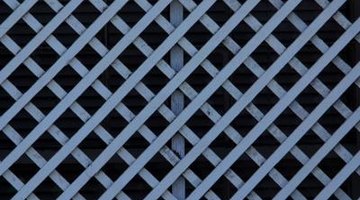 Step 1
Measure a perimeter line 1 foot away from and around a square or rectangular patio, and mark it with wood stakes and string.
Step 2
Mark a spot for the first support post at the start of the perimeter line and 1 foot away from the wall of the house. Measure the spot for the next support post by placing the tape measure on the outside edge of the first post and measuring 4 feet to the inside edge of the next post, following the perimeter line. Continue marking support post locations until the patio is enclosed.
Step 3
Use a posthole shovel to dig a hole at each of the post locations to a depth of 2 feet and a diameter of 12 inches. Make the bottom as level as possible.
Step 4
Mix ready-mix cement according to the directions on the package.
Step 5
Mark the support post 2 feet up from its bottom, and place it in the hole so the ground is level with the mark on the post. Add or remove dirt as necessary to ensure the ground is level with the mark on the post; pour in the cement. Position a flat edge of each post in line with the edge of the patio.
Step 6
Lay a carpenter's level alongside the support post to make certain it is standing straight up. Brace the post so it remains plumb as the cement hardens overnight. Continue the process of cementing the remainder of the posts.
Step 7
Position a sheet of lattice board 1 foot above the bottom of the first post and lined up with the edge along the edge. Use the carpenter's level to make certain the lattice is level.
Step 8
Attach the lattice to the posts with 2-inch finishing nails every 8 inches beginning at the bottom edge of the lattice.
Step 9
Place lattice around the support posts until the patio is enclosed. You may have to cut the last sheet of lattice with a circular saw to fit to the remaining support post.
References
Writer Bio
Freelance writing since 2009, Tom Ross has over 30 years of corporate management and hands-on experience in the supermarket industry. Ross was featured on the cover of "Instore Buyer" magazine and his articles have appeared on various websites.
Photo Credits
Hemera Technologies/AbleStock.com/Getty Images
More Articles