How to Separate a Room With Curtains Without Making Holes in Walls
Sometimes, necessity really is the mother of invention. If you are planning to separate a room with curtains but cannot drill holes in the walls for curtain rods, all hope is not lost; this is where the invention part comes into play. A spring tension rod may be your best option, but it's not the only way to separate a room gracefully and with style.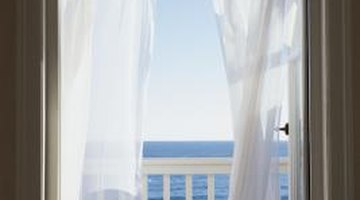 Step 1
Measure the area you plan to separate, wall to wall, and then plot every creative possibility to hang the curtains. Instead of cutting the room in half in a straight line, decide if the room's layout will allow you to run the curtains on an angle and end at a doorway, closet door or a drop in the ceiling.
Step 2
Hang a spring tension rod by unscrewing it in the middle to fully extend it, hanging the curtains on the rod and then sliding the ends of the rod in place on the wall. The rod will compress and fit snugly into place as you push the two ends toward the center. Spring tension rods have rubberized cap ends that won't scratch your walls.
Step 3
Wrap curtain wire from plastic self-adhesive hooks, hang the curtains on the wire and then mount the hooks on the wall. Dress up this practical solution by mounting decorative clips every 6 inches along the wire. For a girl's room, use an assortment of colorful hair clips and barrettes. For a multipurpose or computer room, attach a colorful assortment of snack bag clips to the wire.
Step 4
Dress up your room with wooden room divider or partition by hemming the top and side sections of the curtain panel and then stapling it to the divider or partition. Let the curtains hang down in places or sweep back one side with a tieback, just as if the divider or partition were a window. Sheers usually work best on wooden dividers because they soften and provide visual texture to the wood.
References
Writer Bio
With education, health care and small business marketing as her core interests, M.T. Wroblewski has penned pieces for Woman's Day, Family Circle, Ladies Home Journal and many newspapers and magazines. She holds a master's degree in journalism from Northern Illinois University.
Photo Credits
Comstock/Comstock/Getty Images
More Articles