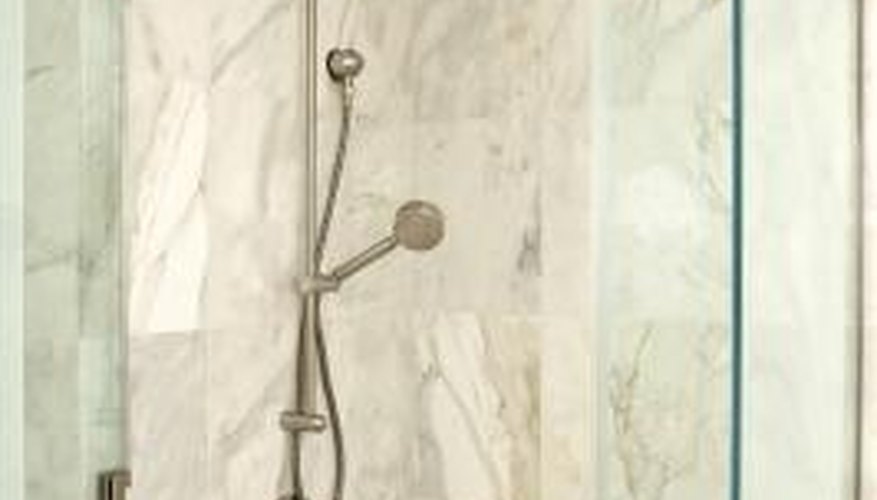 The end result is a hard, plastic material that looks exactly like marble but costs only a fraction of the price. The installation is also far easier than working with traditional marble, which means you can quickly and easily install cultured marble panels on your shower wall, generally completing things in a day as long as you have spare time and access to the tools needed.
Step 1
Set up a cutting area outside of the home, as you don't want the dust to fill the house. Measure your walls with a tape measure and pencil and draw those measurements on a scrap piece of paper. Go outside and mark your pieces of cultured marble with the pencil and tape measure. Snap a chalk line between the marks to create a cutting line.
Step 2
Set the depth of the circular saw to the width of the pieces of cultured marble and ensure that your pieces are firmly placed on top of some scrap pieces of wood so your blade doesn't dig into the dirt. Cut the pieces along your chalk lines and then clean the backs of the pieces off with an old towel soaked in rubbing alcohol.
Step 3
Stick the sheets of cultured marble on the installation surface with a clear, silicone-based adhesive. Cut the tip off a tube of adhesive, insert it into the caulking gun and squeeze the trigger to apply the adhesive. Apply rows of adhesive to the installation surface or the back of the marble sheets, with the rows spread out every two or three inches.
Step 4
Brace the pieces in place with your scraps of wood. Cover the ends with the old towels so you don't scratch the surface of the material. Brace the pieces against the opposite wall as well as against the shower pan for at least 24 hours to hold them up while the adhesive dries.
Things You Will Need

Safety glasses
Work gloves
Dust mask
Pencil
Tape measure
Chalk line
Circular saw with stone blade
Old towels
Rubbing alcohol
Caulking gun
Silicone adhesive
Scrap wood
Caulking
Tip
Leave at least 1/8 inch of space into all interior corners as well as against the shower pan. Caulk all inside corners and along the pan with silicone or a color-based caulking after the installation is in place.