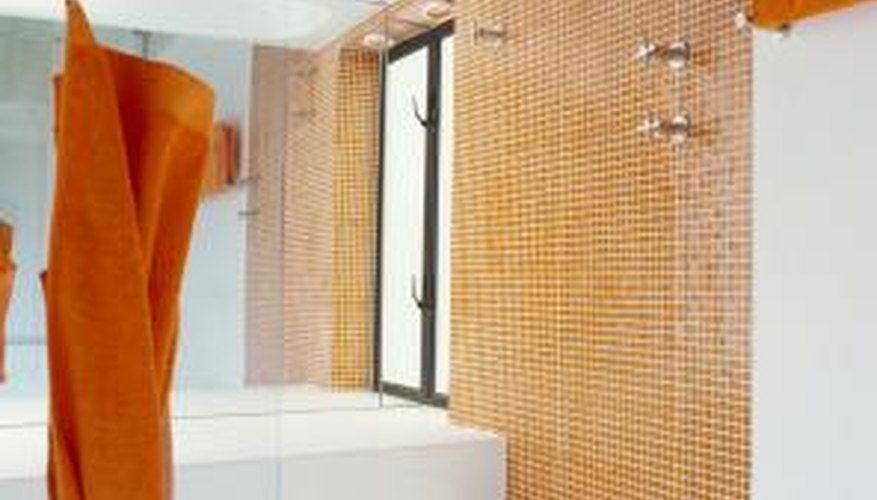 The tub surround lines the wall around the tub, creating a waterproof barrier. Acrylic tub surrounds are usually prefabricated and purchased at home improvement stores. In some bathrooms, the tub surround is too large and must be trimmed. This is especially common in bathrooms where the slope of the roof has shortened the height of the wall beside the tub. This detail should not impede your ability to install the surround yourself.
Step 1
Measure the height of the wall where you will install the tub surround to determine the maximum allowable height of the surround.
Step 2
Mark both sides of the tub surround where it should be trimmed with a wax pencil. Use a straight edge to draw a straight line connecting the two marks, to ensure that the cut is even. If you will be cutting all three sides of the tub surround, make your mark on both outer edges and at the corners of the surround. Connect all four marks with a straight edge line.
Step 3
Lay down a metal ruler or yard stick at the wax pencil line and place your utility knife along the ruler.
Step 4
Drag the point of the utility knife over the line slowly and carefully to score a groove.
Step 5
Cut deeper into the groove by running the utility knife along the same path. Do this again and again, until you have sliced through the acrylic.
Things You Will Need

Measuring tape
Wax pencil
Metal ruler or yardstick
Utility knife
Tip
Go very slowly over curved corners, to ensure that the utility knife doesn't make unwanted cuts in the acrylic. This is especially important because you can't use the ruler to keep the knife straight on this part of the tub surround.