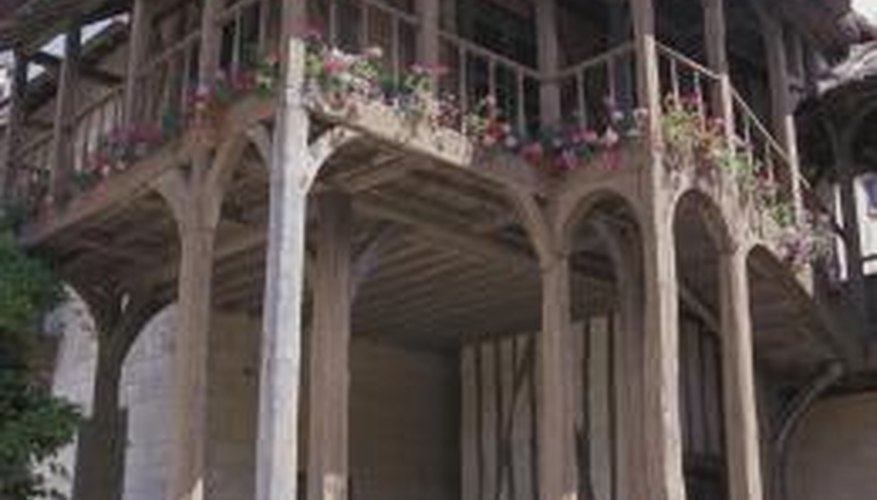 It may be supported by floor-to-ceiling pillars or have a waist-high railing running along its length. The extent to which you enclose your veranda depends on its intended use, your budget and how much construction you want to perform. Both permanent and temporary options exist.
Step 1
Seal off your veranda completely by adding permanent framing and walls. This option provides an extra room in the home and one of the most effective options for keeping the elements out. Adding ceiling fans and ventilation further adds to the comfort of the new room.
Step 2
Enclose the veranda with large glass panels or windows for an attractive sun room. This option allows you to use the veranda year-round without sacrificing any attractive views. It also provides an opportunity for growing certain container plants that may not thrive in certain conditions if left on an open veranda. Windows that open to screens, allow for warm-weather ventilation.
Step 3
Install lattice to enclose the veranda with greenery. Vines may be planted around the veranda and trained up the lattice strips or panels. Using some evergreen vine varieties ensures partial enclosure any time of year. This option allows you to control how much sunlight filters in, and you can rotate plants every few years for varying coverage.
Step 4
Hang heavy-duty drapes or sheer curtains from the veranda's overhang. Let the curtains drag slightly on the porch for a light and elegant feel, or hang shorter panels over a porch railing.
Step 5
Install balcony or porch shade screens. Choose a material and color that fits your veranda's style. For a tropical feel, for instance, choose a bamboo blinds. Canvas works well for a more subtle style. Screens typically roll up, but sliding screens can also be hung from the ceiling.