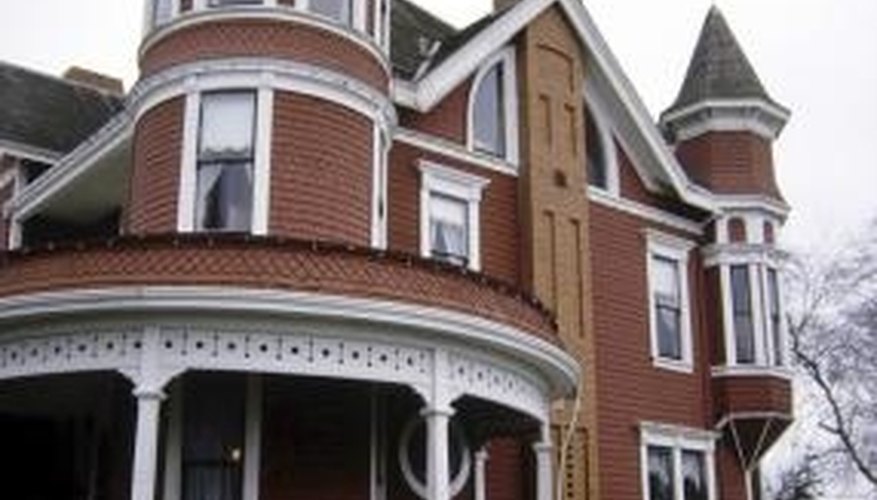 Picking the right colors for house is important; it affects how people will view your house, its resale value and your enjoyment of the exterior of your house. Turn heads in the right way by choosing colors that you can be proud of.
Consider house style. The more complex the style of your home, the more colors you are able to incorporate into the exterior color scheme. The reverse is also true. The simpler the architecture, the simpler the palette. For instance, an box-styled colonial would only need a couple of colors, while a multilevel Victorian can use quite a few for the exterior.
Drive through a few subdivision that have homes similar to yours and examine their color schemes. Write down what colors you like and what colors you don't enjoy looking at on a notepad with a pen.
Limit your use of color. Too many colors will make a home's exterior look wild and unplanned. Stand back and look at your house as a whole. Consider the color of the trim, siding and shutters. A simple color-coordinated scheme will work better than one with many colors that don't match.
Choose colors that will last. Dark colors fade faster than light colors, and inorganic colors last longer than organic colors. Go for beiges, creams and earth-tone colors for long-lasting hues. Avoid reds, blues and greens, especially in bold tones, as these can break down and look washed-out over time.
Consider the color of your roof. If your roof is low and sloping, give it some consideration. Not all roofs are done in the same hue. Black, gray and brown may be common roof colors, but red, green, blue and orange roofs exist as well. Choose exterior colors that complement the color of your roof.
Get a second opinion. After you have narrowed down your choices, ask for opinions. Enlist help from other family members in the house, asking them to vote on their favorite color scheme. Ask a close friend to help you make the final decision if you have trouble making up your mind. If can't find the help you need from friends, consider asking a house-painting expert to give you advice on exterior colors.
Tips
Dark colors will make a house look smaller. Keep this in mind if you are attempting to make your house look larger.

Stick with neutral tones if you plan on selling your house in the future. It will be easier to sell a home with natural colors than one wildly customized to your tastes.