How to Make a Padded Piano Bench Cover
Making a padded piano seat cover is much like making a large pillow except the piano seat cover will be flatter. You can make a seat cover to sit on top of the bench, or you can choose to attach the padded seat cover to the piano bench with a strap. The style of color of fabric you choose doesn't matter, but it important that the stuffing you buy is the same quality of a quilt.
How to Make a Padded Piano Bench Cover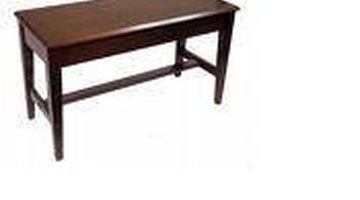 Calculate the surface area of the piano bench by measuring the length and width of the top of your piano bench and multiplying the two numbers.

Buy enough material for double the surface area of the piano bench plus 4 inches. Fold the material in half so that the back of the material is facing out.

Sew the length of the material and one end. Flip the material inside right so the material is now facing out with one end still open.

Stuff the padding into the fabric sleeve.

Fold the open end of the material in and iron the seam . Then sew that end of the material closed.
How to Make a Padded Piano Bench Cover
Cut two strips of material 4 inches wide and long enough to wrap across the top of the piano bench and around the bottom.

Fold each side the strip in 1 inch, and iron the seam to hold it. This should create a 2 inch wide strap. Sew the edges of the straps.

Lay the straps across the bottom of the pad you made so that the pad is in the center of the strap then sew the straps in place.

On one end of each strap cut and hem a button hole. On the other end of each strap, sew a button.

Put the pad on the bench so that the straps are hanging down then button the straps under the bench to keep the pad from moving.
Resources
Tips
When measuring the material for the straps, give your self a little extra just in case. If the straps are to long, you can always move the button.
Warnings
Test the seat cover before you sew the end together to make sure it is comfortable, but not to thick. Once you sew in the end, you'll lose material if you have to tear out the seam and re-sew it.
Writer Bio
Patrick Williamson has over seven years experience in management, as well as extensive experience in auto mechanics and general maintenance. He focuses his writing on topics that are familiar to him including education, parenting and home repair. Patrick graduated in 2002 with a degree in management.
More Articles