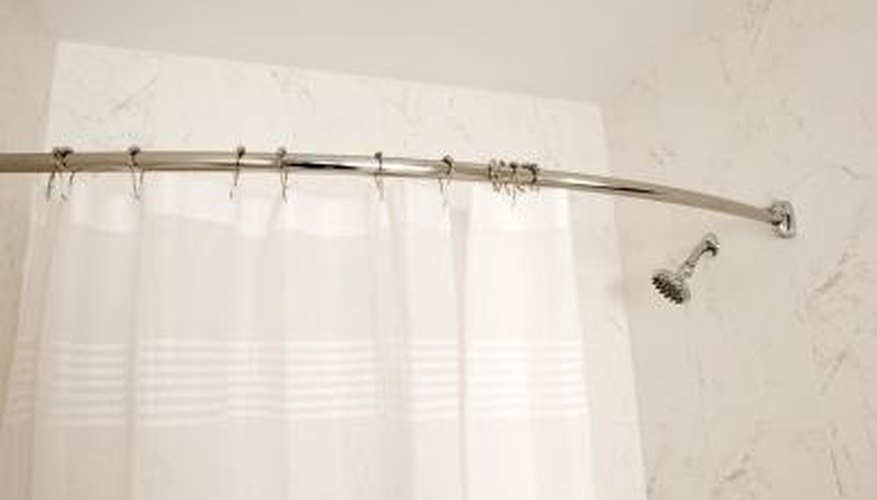 However, with the right plan, tools, preparation and execution, you can have the shower you want.
Remove surrounding tile and drywall. Pry the tub away from the wall with a pry bar and hammer. Be sure to lift properly as cast iron tubs are extremely heavy.
Reconfigure the drain. Using a drain designed for a shower floor, attach it to existing drain pipe using piping adhesive. Additional piping may or may not be necessary. Be sure that the new drain is high enough to be level with the new shower floor.
Reconfigure wall piping. Remove old bathtub faucets and close off the pipes. Install the new shower diverter by attaching hot and cold water pipe to their respective outlets on diverter. Be sure to bring the shower head to 7 feet or to code. Check plumbing for leaks before closing up wall.
Install new sheathing for new walls. Cut board to size and apply board horizontally to wall studs. Using drywall screws, attach boards to studs every 6 to 8 inches. Be sure to leave a 6-inch gap from floor to wall board around perimeter of shower floor.
Install shower floor membrane. Place membrane on the floor and remove any wrinkles in membrane. Attach membrane to studs sing drywall screws. Place the screws at the aforementioned 6 inch mark above floor only. Be sure not to penetrate any other place in the membrane as leaks can occur.
Install cement for flooring. Using self-leveling cement, apply a 1-inch thick slab to shower floor. Be sure to let it dry completely overnight. Once dry, apply regular cement to previously applied slab. Trowel cement so that a slop of at least 1/4-inch per 12 inches is achieved from drain, sloping upwards.
Install floor tile. Find the center of the floor by measuring and chalking a level line. Start running tile from center of floor. Install floor tile by applying equal amounts of thinset to floor and placing floor tile on top of the thinset.
Install wall tile. Find the center of each shower wall and start running tile from that point. Follow pattern throughout by applying thinset to wall and placing tiles on top of thin set.
Grout both floor and wall tile after thinset is completely dry. Wait at least 24 hours before grouting. Spread grout over tile. Be sure grout seeps into all crevasses. Wipe off with a wet sponge.
Things You Will Need

Hammer
Drill
Screwdriver
Pry bar
Cement-based or water-resistant sheathing
Drywall screws
Waterproof shower floor membrane
Drain
Piping
Piping adhesive
Shower diverter
Cement
Tile
Thinset
Grout
Sponge
Tips
Be sure floor membrane is free of punctures before installing to avoid costly leaks by plugging drain, filling it and leaving it full over night to be sure no punctures exist.

Test concrete floor before tiling to be sure slope is correct and drainage is occurring.

It's important to keep wall board as level as possible so tile can be level.

Use proper trowel guides to ensure floor is at proper pitch.