How to Cover Dining Room Chairs in Plastic Covers
Covering dining room chairs in plastic covers is an excellent way to preserve the cushions. Dining room sets can costs thousands of dollars and are often passed down as family heirlooms. People automatically think of covering the valuable table with a tablecloth to protect it from stains, spills and the errant dinner knife, but they often neglect the chairs. Using plastic covers on the chairs assures that the expensive upholstery will remain as clean and attractive as the day it was bought.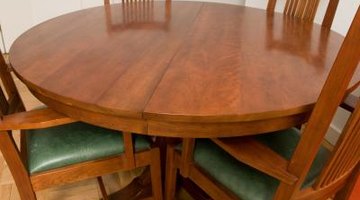 Step 1
Push dining room table off to the side of the room to give yourself working space. Turn the chairs over and locate the screws holding the cushions in place. Remove screws.
Step 2
Locate the staples that hold the fabric onto the cushion. With a staple remover or flat head screwdriver remove the staples from one cushion. This will become the template for the plastic covers.
Step 3
Using the fabric template cut the plastic with a pair of scissors.
Step 4
Lay the plastic on a work bench or table. On top of the plastic place the fabric and then the cushion. Begin folding the plastic and fabric around the cushion. Staple the plastic and fabric into place one side at a time. As you work leave some slack for the remaining sides. Continue until all four sides are stapled with corners loose.
Step 5
Use some trial and error to find the best fold for the corners. The goal is to make the seat of the chair look neat and clean. Staple the corners into place once you are happy with the fold.
Step 6
Re-align the seat on the chair to the existing screw holes. Re-attach the seat with screws. Repeat process on all chairs in the dining set.
References
Writer Bio
Steve Bradley is an educator and writer with more than 12 years of experience in both fields. He maintains a career as an English teacher, also owning and operating a resume-writing business. Bradley has experience in retail, fashion, marketing, management and fitness. He holds a Bachelor of Arts in English and classics.
Photo Credits
Jupiterimages/Photos.com/Getty Images
More Articles