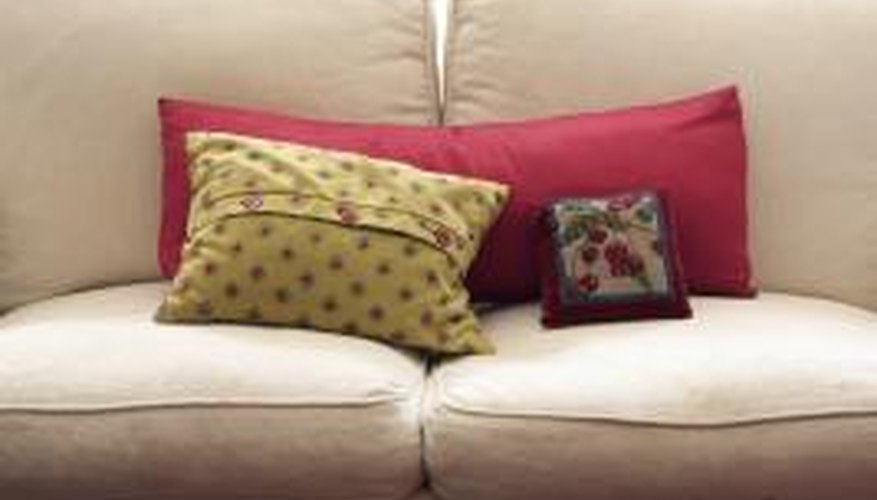 Whether you've found a great vintage piece that needs updating or if your current furniture needs a fresh new look, you can update the look of worn or outdated furniture by reupholstering it yourself. By selecting your own fabric, you can choose a look, texture and feel that reflects your style and make the piece a one-of-a-kind piece. Taking extra care in measuring and preparing for ordering your fabric will make this project as cost effective and painless as possible.
Step 1
Make a pattern for each and every section of your piece of furniture that is currently upholstered in fabric, using tissue paper. Every single area on the piece of furniture separated by a curve, angle or rolled area should be considered its own section; for example, each side of a seat cushion is its own section and should have its own pattern piece. Tape the tissue paper together if necessary to make it large enough to trace the entire section you are working with. Loosely tape the tissue paper over the section you are working with and trace the section with the pencil.
Step 2
Remove the pattern piece and write the name of the furniture section on the pattern piece for reference. Cut out the pattern piece on the lines you made. Repeat for each section of your furniture piece that is upholstered until you have a tissue paper pattern piece that corresponds to every upholstered fabric piece of your furniture.
Step 3
Select a fabric to order from an online source, a catalog or a fabric store before you move on so that you know the fabric width you are working width, as well as the size of the pattern on the fabric. Write down the fabric width; with home décor fabrics, the width is most often 54 or 60 inches. You needn't order or purchase the fabric at this point, as you just need to know the width in order to estimate your yardage needs. If your fabric has a pattern that runs either up and down or side to side on the fabric, take note of which way the pattern runs.
Step 4
Arrange your pattern pieces on a large flat surface so you can start measuring your estimated fabric yardage needs. At this point, you won't have your fabric; you are simply laying out the fabric pieces in the most effective order to ensure you have enough fabric. Lay out your pattern pieces so that they are no wider than your fabric (most likely 54 or 60 inches) and so they are all at least 4 inches apart from each other to allow for seam allowances; arrange the pieces so that they work with the way the pattern runs on the fabric you are purchasing. This step often takes much "trial and error" before you get it laid out exactly how you want it. Take your time with this step, as it will make cutting out the fabric much easier.
Step 5
Take a picture of the final layout order with a camera and sketch it out on a piece of paper. Because this is a "trial run" of your pattern layout, you will need to duplicate this layout after you have successfully ordered and received your fabric, which can often take days or weeks. Having a picture of your layout as well as a sketch readily available ensures you have the optimum layout order preserved and can easily duplicate it on your fabric.
Step 6
Measure the length of the surface, in inches, your pattern pieces occupy on the hard, flat surface on which you have arranged them. For example, if your pattern pieces span 282 inches in length across your kitchen floor, write down 282 inches. Divide this number by 36 to find your initial estimated yardage; in this case, the initial estimated yardage would be 7.8. Round that number up to the next half yard. In this example, it would be rounded to 8 yards.
Step 7
Add additional yardage for pattern matching. For a chair, assume you need an extra yard; for a larger piece, such as a couch, order an additional 2 or 3 yards. If you are adding piping to any of your chair cushions, add 1 yard per cushion. If you are adding a skirt, add an additional 2 yards for a chair and 3 to 4 yards for a couch.
Things You Will Need

Measuring tape
Pencil
Tissue paper
Tape
Camera
Paper