How to Build a Bamboo Greenhouse
Bamboo is one of the most sustainable building materials currently available to eco-conscious consumers. As such, it can be a harmonious and cheap material to use when building a greenhouse. Experimental designs exist right now that use bamboo on an industrial scale in greenhouse building, but having a bamboo greenhouse in your backyard is a much simpler process.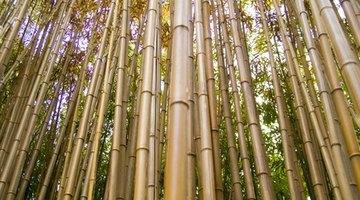 Mark the footprint for your greenhouse with a ruler. This plan calls for a 6-foot-by-8-foot rectangle.

Use the post digger to dig a 2-foot-deep hole at each corner. Mix the cement and fill each hole. Place the two 5-inch-by-8-foot poles on one 8-foot length of the rectangle, and the two 5-inch-by-6-foot poles on the other 8-foot length. Use stakes, twine and a level to keep these poles perfectly vertical while the cement sets.

Place one 2.5-inch-by-8-foot pole at the base of the 8-foot-long sides of the rectangle to begin framing the bottom of the greenhouse. At the intersection of these poles with the vertical support posts, drill a 1/2-inch hole between each pole and then secure them together with a 1/2-inch nut and bolt. Repeat for the other end of the pole, and then repeat this same step for the other 8-foot-long section of the rectangle.

Repeat Step 3 for the 6-foot-long sides of the rectangle using the 2.5-inch-by-6-foot poles.

Take the other two 2.5-inch-by-8-foot bamboo poles and mount them at the top of the vertical poles on the 8-foot-long sides of the rectangle. Secure with nuts and bolts at each corner as before.

Use the 2.5-inch-by-6 1/3-foot poles to span the distance between the shorter sides of the rectangle at the top. The 2-foot difference in height will provide a slant in the roof so that water can run off easily.

Wrap the entire structure with heavy grade clear plastic sheeting. Make sure this plastic is pulled tight to prevent slack, and secure in place with a staple gun throughout the inside of the structure.