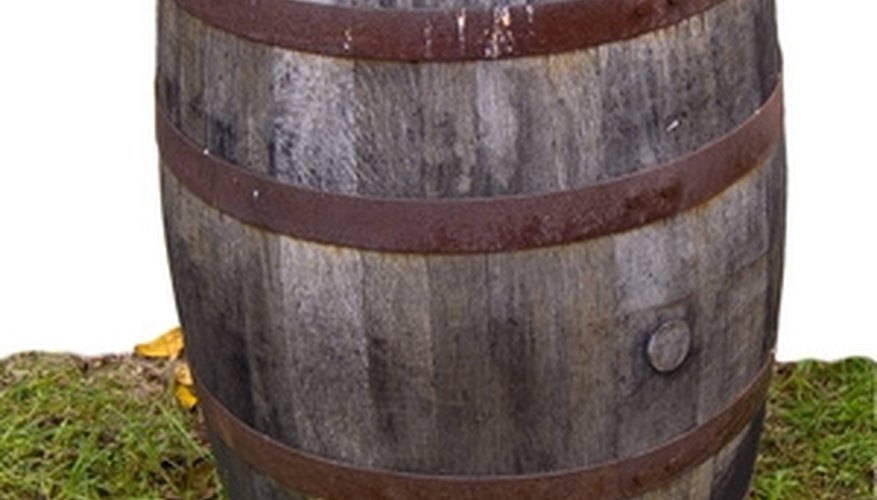 Place the largest halved barrel on level ground in the desired position, close to an electrical outlet. Use a level to ensure that the barrel and ground is level.
Cut notches about 3 inches wide near the top of each barrel. This will allow excess water to flow from the top to the bottom barrel, creating the waterfall effect.
Secure the plastic liner inside the barrel to prevent water from leaks. If using a genuine wine barrel in good condition or a water-proof barrel, the liner may be omitted.
Create a platform for the smaller barrel to sit on from similarly colored wood. The platform may be made from a solid piece of wood or several smaller pieces of wood spaced slightly apart, large enough to cover about half of the larger barrel, or the entire base of the smaller barrel. Attach the platform to the barrel rim with nails.
Set smaller barrel on top of the platform. Repeat Steps 3 and 4 for as many tiered barrel as you would like; the top barrel does not need a platform on top of it.
Place several bricks inside the top barrel, and set the pump on top.
Attach the fountain head to the tubing, and connect the plastic tubing from the top barrel to the bottom barrel to recirculation the water. Try to conceal the tubing by going up the backside of the fountain. May you need to drill a hole or cut a small notch in the bottom barrel, to allow for tubing access.
Fill the bottom barrel with water and plug-in the fountain to start the pump. Continue adding water until you have adequate flow from barrel to barrel.
Adjust the fountain head as desired; you may wish to see water gurgling up, or see a slight fountain.
Things You Will Need

Halved barrels (various sizes)
Level
Saw
Liner
Platform
Nails
Hammer
Bricks
Submersible pump
Fountain head
Tubing
Drill
Electrical outlet
Tips
Prevent stagnant water by keeping the water fountain running.
When creating the notches in the barrels, keep in mind that smaller notches will have smaller water flow and wider notches will make a larger water flow.
Instead of creating notches in the barrels, place them at an angle and allow the water to naturally flow from one barrel to the other. Secure the barrels to the platforms so they don't fall over.