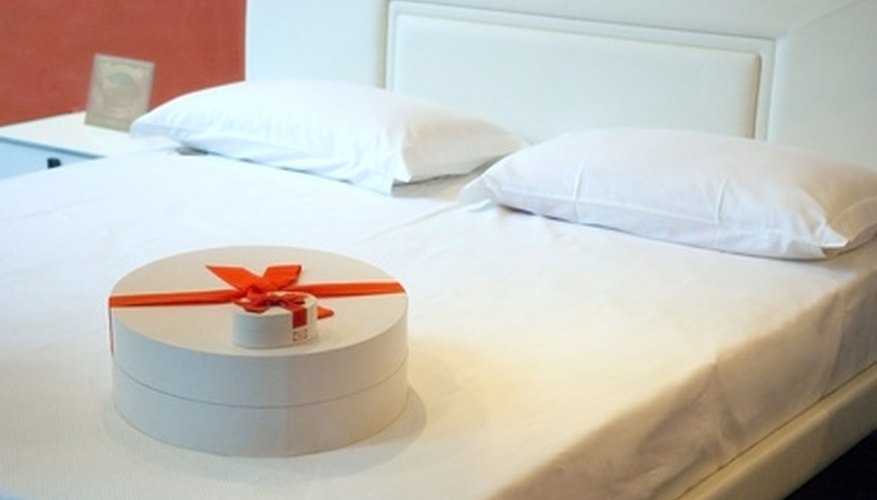 While brass headboards have a very classic look, upholstered beds can add a more modern flair to a bedroom. If you have an old brass bed, create an easy tufted upholstered effect. By using pegboard instead of plywood to make your headboard, you can avoid having to drill any holes or making any permanent changes to the bed.
Lay your brass headboard over a sheet of pegboard. Trace around the headboard onto the pegboard with a pencil. Follow the shape and cut out with a utility knife. Sand down the edges of your pegboard with a piece of fine-grit sandpaper.
Thread zip ties through the holes of your pegboard and around the posts of your headboard. For optimum stability, thread your ties around all sides of your headboard. This will secure your pegboard in place.
Apply a layer of spray adhesive to the top of your pegboard. Position your upholstery foam over the top of your pegboard to hold in place. Trace around the headboard and cut around the edge with a utility knife.
Spray a layer of spray adhesive over the top of your foam. Layer with a roll of cotton batting and pull over the underside of your pegboard. Staple your cotton batting in place with a staple gun, pulling taut. Try to keep your batting layer even so you can avoid having your finished product looking lumpy and misshapen.
Place your fabric over your headboard. Pull around the back of your headboard and staple in place, pulling taut. Walk around curved areas and corners inch by inch, folding over slightly and stapling in place to the underside of the pegboard.
Add any decorative trim to the edge of your headboard with a hot glue gun or by sewing in place with needle and thread. To create a tufted effect on your headboard, thread buttons from the holes in the pegboard through to the front of your headboard.
Things You Will Need

Utility knife
Zip ties
2-inch upholstery foam
Spray adhesive
Cotton batting
Upholstery fabric
Staple gun
Staples
Decorative piping
Tufted buttons
Hot glue gun
Needle and thread