How to Get Free Subscriptions to Interior Decorating Magazines
When you are decorating your home, especially on a budget, free subscriptions to interior decorating magazines can be extremely helpful. These magazines are full of pictures and inspiring ideas and direct you where to buy furniture, accessories and finish materials to help you achieve your dream home. Interior decorating students also find magazines dedicated to their field to be very educational, allowing them to stay on top of trends. Magazine subscriptions can be expensive, but you can easily obtain them for free if you know where to look.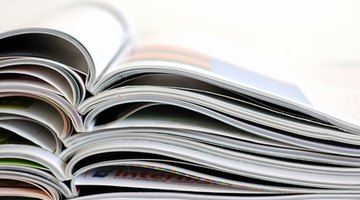 Even if you are after actual printed-on-paper publications, there are many websites that have collected links to interior decorating magazines that offer free trials or completely free subscriptions. These websites save time, but you may also go directly to the website of a particular interior decorating magazine in which you are interested.

Eschew technology by simply taking the subscription card from an interior decorating magazine you see at a friend's house, in a waiting room or nail salon.

Fill in all of the required information online or on the subscription card, such as your name and address. Some magazines may only offer free subscriptions to those in the interior decorating field or related fields. Others may require credit card information for free trials, and after receiving a certain number of issues you will be billed.

Watch your mail and in about four to six weeks, on average, you will receive your first issue. If you have signed up for a trial period, don't forget to cancel to avoid being charged for a subscription.
References
Resources
Tips
Ask a friend who is an interior decorator or who subscribes to interior decorating magazines if you can have old issues that he plans to toss out. Also, contact local interior design firms and see if they have stacks of older magazines that you can have for free.
Subscribe to email newsletters from interior decorating magazines or obtain free information online. Most magazines, such as Interior Design, have an online component that offers much of the information that is printed in the magazine.
Although you may be after magazines with lots of pretty pictures, don't rule out trade magazines. It's often easier to land free subscriptions to these publications, which feature new products in the industry.
Some magazines offer free subscriptions to students.
If you work in the interiors field, ask your boss to pay for a subscription.
Attend interior decorating and design trade shows and look for the press section. There are typically piles of free magazines available for the taking.
Use your credit card points or fill out surveys online to obtain free interior decorating magazine subscriptions.
Always recycle magazines rather than throw them away.
Warnings
Before subscribing, be sure you understand and accept all the terms of the "free" subscription. You may open yourself up to unwanted emails and junk mail since some companies sell your information.
Writer Bio
Dorian Gray has been a full-time freelance writer since 2009. She has written extensively on the topics of architecture and design for national magazines such as "Architectural Record" and regional publications such as "At Home in Arkansas." Gray also writes about the topics of beauty, health, nutrition and travel. She holds a Bachelor of Architecture from the University of Arkansas.
Photo Credits
More Articles