How to Replace the Door Handle on a KitchenAid Microwave Hood
KitchenAid is a household name and some people will have nothing but KitchenAid and Whirlpool products in their homes. Those that have the KitchenAid microwave hood may experience some problems with the handles cracking or breaking because of the heat of the stove top. If this happens after the warranty expires, you can replace the handle yourself. You will easily be able to get a replacement handle with the microwave hood model number. See the list of resources for more information where you can find the replacement handles.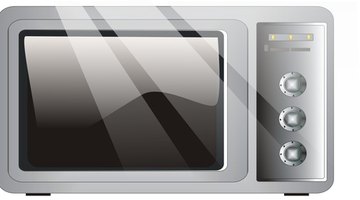 Step 1
Remove the screws on the side of the door that help hold the handle in place. There are eight hooks on the top and bottom and four hooks on the hinged part of the door that keep the front and back of the microwave door together.
Step 2
Pry the first hook out of the hole and slide a butter knife, putty knife or plastic wedge in the space to keep from the hook going back into place. Do this with all the hooks.
Step 3
Apply some pressure to the knives and the front of the door will come off. Remove the damaged handle and replace with the new one. Snap the front of the door back into place and tighten the screws on the side of the handle.
References
Resources
Writer Bio
Ashley Eby has been a freelance writer since 2010 and has been published on eHow. Ashley mostly writes about keeping up with home life and has done research on furthering education via Pell grants. Eby is currently enrolled at Ashford University pursuing a Bachelor of Arts in teaching.
Photo Credits
More Articles