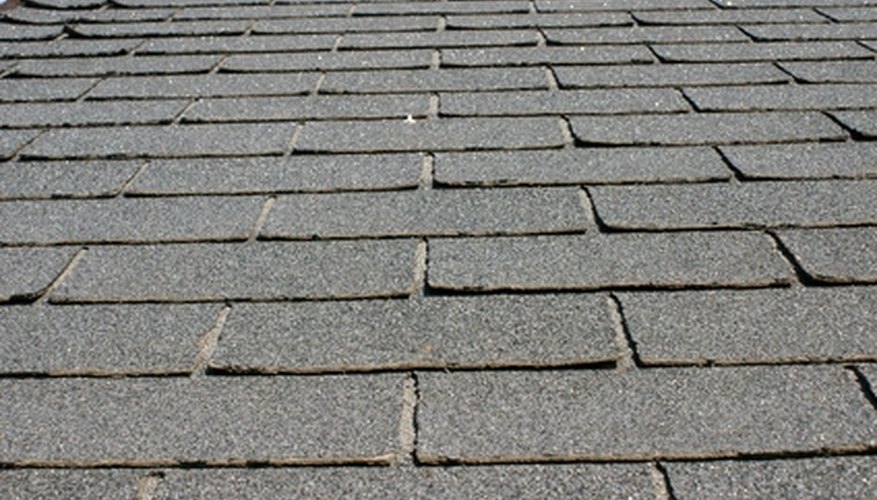 It is difficult to properly attach new shingles to multiple layers of old shingles, and the weight of more than two layers of roofing may be too much for your decking to bear. Inspect your old shingles to be sure they are not buckled or curled, and make sure the decking (the flat surface, often made of plywood, that you attach the shingles to) isn't sagging to avoid shortening the lifespan of your new shingles.
Purchase new shingles from a large hardware store or roofing supply company. You will have an easier time laying out the new shingles if they are the same size as the old shingles, since you will be using the old shingles to guide your placement during installation.
Trim the tabs from several new shingles with a utility knife, leaving only the narrow strips of the bottoms of the shingles behind. Most shingles have several sections on the top portion called tabs. The tabs are separated by slits, and they form the part of the shingle that will rest beneath the bottom portion of the shingle on the row above. Place the narrow strips of the bottoms over the row of old shingles that circle the bottom of the roof to make a flat surface for the first row of the new shingle installation. Repeat until you have filled in the row with shingle strips around the entire roof.
Determine the number of shingles that you used in Step 1. Trim the tops off the same number of shingles so they butt up against the bottom edge of the second row of old shingles and extend over the edge of the roof by a 1/2 inch. Attach the shingles to the roof with roofing nails 1-1/4 inches wide.
Attach the remaining rows of shingles to within several feet of the hip and ridge caps, which are shingles or preformed caps that complete and weatherproof the peak of a roof. Use the old shingles as a guide for your layout.
Remove the hip and ridge caps and finish shingling to the peak of the roof. Put the preformed hip and ridge caps in place and secure them with roofing nails 1-1/4 inches wide.
Things You Will Need

Shingles
Utility knife
Roofing nails, 1 1/4 inches wide
Nail gun
Preformed hip and ridge caps
Tip
Check the manufacturer's instructions before installation for nail placement recommendations for the new shingles and preformed hip and ridge caps.