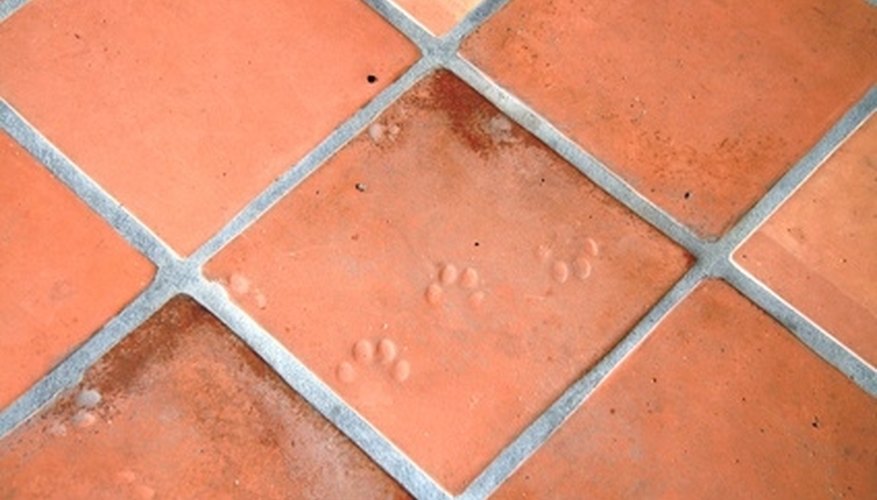 Given the fact that grout is basically nothing more than colored concrete with latex additives within, it is more susceptible to moisture, stains and mold/mildew than the actual tiles themselves, and sealing the grout is a way to ensure the integrity of the grout for the duration of its lifetime.
Clean the surface of the tile, as well as the grout joints themselves, completely prior to sealing. This is important to ensure that no particles such as dirt or dust are trapped beneath the coat of sealer. You can clean some areas, such as kitchen countertops or backsplashes, with water and a sponge, while larger areas such as bathroom floors or kitchen floors can be vacuumed thoroughly. If you use water in any way to clean the surface, allow a minimum drying period of 24 hours to ensure the moisture has had a chance to completely evaporate or you could seal it within the grout joints themselves.
Apply the sealer directly to the grout joint using a paintbrush. If the joints are particularly small, you can use a sponge applicator rather than a paintbrush. In addition, if you are working with a large area of natural stone where the grout joints are not the only area you are looking to seal, you can use a hand-held sprayer to apply the sealer directly onto the tiles in conjunction with the grout joints. Follow the manufacturer's instructions in regards to how many coats of sealer are required.
Remove any excess sealer from the face of the tile using a dry rag if necessary. For natural stone, this is not an issue, as the stone itself is porous and will soak up the sealer. Certain types of sealers will require multiple coats to completely protect the grout joints, depending on the brand of sealer purchased. You can apply additional coats beyond the manufacturer's instructions for extra security, but these are entirely optional. Reapply sealer every 6 to 12 months depending on personal preference.
Allow a minimum of 24 hours before allowing any foot traffic or moisture to come in contact with the tile or the grout joints.
Things You Will Need

Sealer
Paint brush
Applicator (optional for small grout joints of 1/8 inch)
Hand-held sprayer such as those used when spraying for weeds in a garden (optional for large natural stone areas)
Gloves
Respirator or mask
Tip
You can purchase or rent all materials and tools from your local home improvement store.