Homemade Lint Trap
A lint trap keeps a clothes dryer vent clean, giving the dryer a longer lifespan and preventing the risk of fire. Lint traps are not expensive to replace if one breaks, but there is an even less expensive way to remedy a broken part--create one of your own.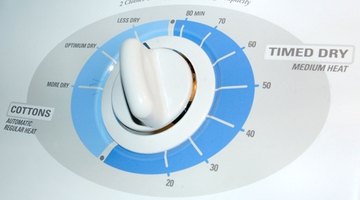 Cut the band holding the loofah together and unravel it. Cut about 12 inches from the unraveled loofah and attach one of the zip ties in the middle. Leave the tie mostly unzipped.

Fold the loofah over itself, pushing one end through the zip tie loop in the middle. Zip the tie closed.

Locate the vent hose on your dryer. Put the open end of the loofah net over the vent hose and attach it using the second zip tie.
References
Tips
To clean out this trap, detach it from the vent hose and hold it over a waste basket. Turn the trap inside out and remove the lint by hand. You may wish to rinse the trap off afterward to rid it of the smaller pieces of lint.
Writer Bio
Adam Louis is a graduate of Bowling Green State University. He has been writing for local newspapers since 2006, covering hard news, sports and features. Louis' work frequently appears in "The Torrington Telegram" in Torrington, Wyo.
Photo Credits
More Articles