How to Hang a Shelf on Drywall
Drywall is used regularly in homes and industrial settings to create walls and ceilings and cover the framework of the structure. This material is basically made of compressed dust covered with paper. Drywall will give you a nice, smooth surface on which to apply paint or wallpaper, but it is not very strong. Hanging a shelf on drywall means finding the stud frame beneath the surface of the wall so that your shelf can hold the weight of whatever you want to put on it.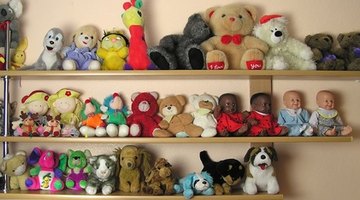 Run the stud finder across the wall. Make a pencil mark on the wall everywhere the light on your stud finder comes on to mark the beginning of each stud. Make another mark every time the indicator light goes off to mark the opposite end of each stud.

Hold your level horizontally against the wall. Move the ends of the level up and down to place the bubble in your level between the marks on the plastic tube. Draw a pencil line across the wall to mark the top of your brackets.

Place a shelf bracket vertically against the wall. Line up the bracket between the marks indicating one stud. Hold your level against the side of the bracket to line it up evenly. Attach the bracket to the wall by driving a drywall screw through the bracket and into the wall every 8 inches along the length of the bracket. Fasten a bracket to each stud along the length of the shelves.

Slide a shelf hanger into the same level in each bracket. Lay your level onto the hangers to ensure a flat surface. Place a shelf onto each set of hangers and add your belongings.
References
Warnings
Shelf brackets can support only so much weight; check the manufacturer's specifications to find the limit. Do not overload the shelves.
Writer Bio
After learning electronics in the U.S. Navy in the 1980s, Danny Donahue spent a lifetime in the construction industry. He has worked with some of the finest construction talent in the Southeastern United States. Donahue has been a freelance writer since 2008, focusing his efforts on his beloved construction projects.
Photo Credits
More Articles