Removing Spilled Honey From Vinyl Flooring
Honey was the first sweetener used by humans, and its use can be dated back to early Greeks and Romans. Honey is used in the kitchen for everything from baking to sweetening tea. Honey is a natural, sweet ingredient provided by bees and collected by beekeepers. The syrupy, sticky texture of honey makes it difficult to remove, especially on floors. To avoid residual honey that makes your feet stick with every step, follow these simple steps.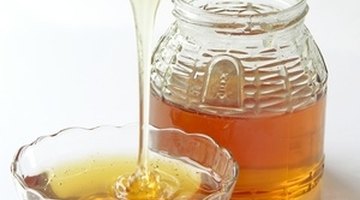 Wet a clean cloth with hot water and wipe up the honey spill. You will need to use several cloths to remove as much of the honey as possible. Use the hottest water you can stand.

Pour undiluted white vinegar onto a clean cloth and wipe the floor. The vinegar will remove any residual honey. Rinse with a cloth dampened in hot water.

Clean the floor using a vinyl floor cleaner. Rinse well and allow the floor to air dry.
References
Tips
Clean up the honey spill immediately. As the honey sits, it will begin to harden, making it more difficult to remove.
If the honey already has hardened, try using a hair dryer on the honey to liquefy it before using hot water to clean it up.
Warnings
Do not use detergent or floor cleaners not designed for vinyl floors as these can leave a dull residue on the vinyl.
Writer Bio
Jess Jones has been a freelance writer since 2005. She has been a featured contributing writer for "Curve Magazine" and she teaches English composition at a small college in Ann Arbor, Michigan. She received her Master of Arts in English language and literature in 2002.
Photo Credits
More Articles