How Can I Sell My Antique Gas Stove?
The names O'Keefe and Merritt, Wedgewood and Tappan warm the hearts of many. These brands of old-fashioned gas stoves evoke memories of grandmothers' cherry pies, and cookie jars tucked in cabinets high above the range. Antique and vintage stoves are becoming more and more popular as people remodel their kitchens to create a 1940s or '50s ambience. If you know how to sell yours, you can make hundreds of dollars.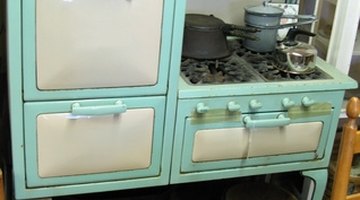 Refurbish and/or repair your antique gas stove. A stove in mint condition can fetch a significantly higher sum than one that's broken or shabby. If you don't know how to refurbish or repair your stove, hire someone with a background in these areas. Make sure any repair person is fully licensed. Always check credentials and ask for references.

Locate websites that sell antique gas stoves. A few good places to start are antiquegasstoves.com, antiquestoves.com and goodtimestove.com. Call the businesses and mention what type of stove you have and the year it was produced. Describe any unusual features, such as a clock, timer or special finish. An interested business may ask you to email photos, so take digital pictures of your stove from as many angles as possible, including close-ups of any imperfections such as scratches or dings. A company that wants to purchase your stove might be willing to pay for freight, so inquire about that, too.

Find antique shops and stores that sell vintage stoves in your area. Look in the phone book under "Antiques" and also "Appliances." Do a local business search on Google maps by using these categories. Call stores and inquire as to whether they buy antique gas stoves. You can arrange for someone from the store to drop by your home, or you can bring the stove to the shop.

Go to antique shows. Bring photos and model/make information with you. Chat up vendors to see if they might be interested in buying your stove. If they're not, chances are they'll know someone who might be.

Post your stove on eBay in "Antiques," "Collectibles" or "Home and Garden." If you're not willing to pack up the stove and ship it to a buyer, make sure you specify that the stove is for local pickup only. Include photos and a complete description of the stove.

List your stove for sale on Craigslist. You can post an ad in either "Antiques," "Appliances, "Collectibles" or "Household." Register for a free account on the site and compose your ad. Include your phone number if you'd like people to call you, or request an anonymous email address to protect your privacy. Photos are optional but might help attract buyers.
References
Resources
Tips
Before selling your stove, get an idea of what it's worth by researching online retailers, Craigslist and eBay ads, and local antique and appliance shops. Then set the minimum price you'll take.
Writer Bio
Angela Brown has been a book editor since 1997. She has written for various websites, as well as National Public Radio, Pacifica Radio and more than 20 fiction anthologies. Brown earned a Bachelor of Arts in theater and English from the University of Wisconsin.
Photo Credits
More Articles