Cut a Pergo Plank to Length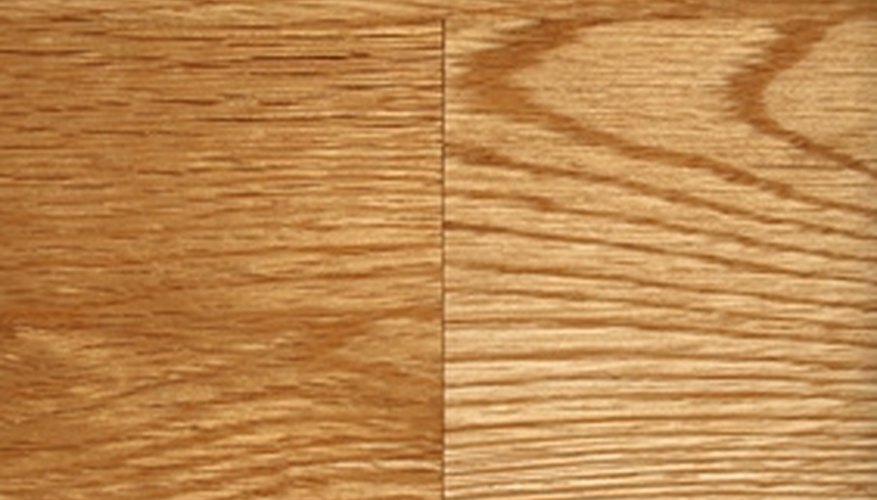 Pergo consists of a hard coating covering a composite inner core that is 90 percent wood. The hard coating resists scratching and does not wear like the polyurethane finish applied to a hardwood floor. Cutting Pergo flooring requires hardened carbide blades that resist dulling when going through the gritty internal core of the Pergo flooring plank. Keep extra blades on hand, as even carbide blades dull when cutting large amounts of Pergo flooring.
Measure the length of flooring you need with a tape measure.
Mark the needed length on a piece of flooring with a pencil. Extend a cut line across the top face of the floor with a carpenter's square.
Cut the Pergo to length with a power miter box, utilizing a carbide blade.
Match-Cut First Course of Flooring
Place a length of flooring against the wall of the room. If you notice alternating tight spots and gaps, hold the pencil between your thumb and index finger and drag your thumb along the wall with the tip of the pencil resting on the finished side of the flooring. This will transfer the uneven wall surface to the surface of the flooring.
Cut along the pencil line slowly with a jigsaw.
Test-fit the piece of Pergo floor against the wall. Mark and trim the piece as necessary with the jigsaw to achieve a uniform fit between the flooring and the wall.
Square-Cut Pergo Flooring for Straight Walls
Set the height of a table saw cutting blade to extend 1/2 inch beyond the top of the Pergo floor plank. Adjust the ripping fence to remove 1/4 inch of material from the plank.
Turn on the table saw and slowly feed the plank along the rip fence to remove 1/4 inch of material from the plank.
Remove 1/4 inch of material from one end of the ripped plank to create a 90-degree corner on the plank.
Things You Will Need

Tape measure
Pencil
Carpenter's square
Power miter box with carbide blade
Jigsaw
Table saw with carbide blade
Tip
Wear safety glasses when cutting Pergo flooring.