How to Decorate a Log Cabin Home
Log cabin homes are especially wonderful spaces to decorate due to their use of rustic, earthy and nature-inspired elements. Whether a year-round residence or a seasonal retreat, log cabins are cozy and relaxing and a favorite style of many homeowners. Decorating a log cabin results in a home with a casual, lodge-style appearance for homeowners to enjoy throughout the year with their family and friends.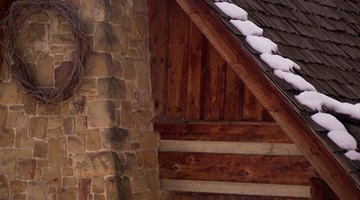 Choose colors from nature. Log cabin interior color palettes are inspired from natural elements. Appropriate hues, such as greens, tans, browns and reds, give the interior space an earthy, rustic appearance and are perfect for a cabin design.

Incorporate rustic flooring materials. Choose rough, low-sheen wood flooring surfaces or add a radiant-heated slate floor for a log cabin decor that is beautiful and functional at the same time.

Choose pine or birch furniture. Rough, light-colored pine wood often has knots and an uneven surface, which enhances a rustic home, and the white-birch varieties, with their variegated texture, add an earthy accent to the space.

Use a stone fireplace as a focal point by arranging a conversational grouping around it. Add a large log mantel on the top for an extra layer of rustic charm.

Add wood beams to the ceiling. Large, exposed wood beams are a natural accent that enhances the weathered look of a log cabin interior. Choose faux beams for their lightweight characteristics and authentic appearance.

Select leather couches and chairs. Natural materials, such as leather, are perfect for decorating a log cabin-style home due to their rustic look and nature-inspired color. Use leather in couches, chairs and ottomans for lodge-inspired visual appeal.

Accessorize with Western items. Use Native-American throws on the couch or add a display of cowboy hats on wall shelf hooks. There are many ways to bring a touch of Western decor to the log cabin space, ranging from adding cowboy bandanna-print pillows on a chair to placing an animal hide rug on the floor.
References
Resources
Tips
Choose a type of log cabin interior design for optimal visual appeal. Lodge cabin designs range from ski-lodge to fishing camp to Western lodge, so selecting a style helps determine color palette and accessories.
Writer Bio
Based in upstate New York, Amy Mosher has been writing interior design and lifestyle articles since 2005. She is a prolific professional blogger, designer, artist and writer for various websites. She holds a bachelor's degree from Mansfield University and is a graduate of the Sheffield School of Interior Design.
Photo Credits
More Articles