How to Finish Off the Space Between Cabinets & Tile Backsplash
When a tile backsplash is installed, there is usually a tiny space between the tile backsplash and the wall cabinets of the kitchen. Often, this space is never noticed by homeowners or their guests. An easy way to finish off this space is to apply a small bead of caulk around the bottom of the cabinets. Caulk will protect the space from moisture and will create a more finished look for homeowners.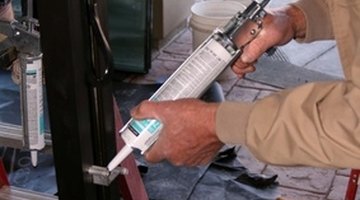 Load a tube of tub and tile caulk into a caulk gun. When purchasing the caulk, choose a color that is similar to the color of the backsplash grout. Cut a hole in the opening of the caulk tube with a utility knife. Cut a small hole (the line nearest to the top of the caulk tube) in the caulk tube.

Apply a small bead of caulk to the area between the cabinets and the tile backsplash. Make sure that you reach all along the bottom of the cabinets, including into the corners of the wall.

Wet your finger and smooth the caulk with your finger. Keep a damp cloth nearby so you can wipe away excess caulk from your fingers as you go.

Allow the caulk to dry overnight.
References
Tips
Most tile backsplashes should reach all the way to the bottom of the wall cabinets in your kitchen. However, if you are left with an unusually large space between the backsplash and the cabinets, you may want to consider installing molding to the bottom of the cabinets. Simply chose a molding that will cover the space and nail it into the bottom of the cabinet with a pneumatic nail gun. Paint or stain the molding to match the cabinets. Caulk as directed above.
Writer Bio
Cadence Johansen is a freelance writer who enjoys writing about travel, marriage, family relationships, caregiver support, home improvement and money. Johansen has been writing professionally since 2008. She holds a master's degree in family studies from Utah State University.
Photo Credits
More Articles